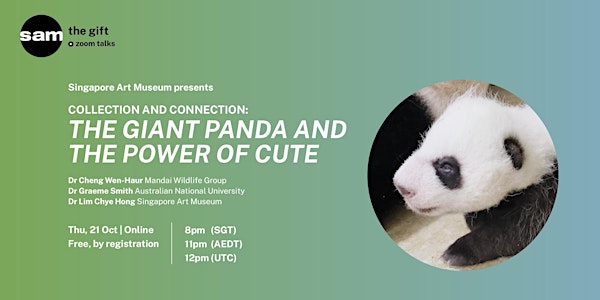 COLLECTION AND CONNECTION: The Giant Panda and The Power of Cute
A glimpse of panda mania, global diplomacy across cultural boundaries, and the art of collecting and caring for the living collection.
About this event
The Giant Panda and The Power of Cute
Pandas are so adorable that it is difficult not to fall in love with them. Undeniably one of the most successful ambassadors that expresses China's soft power, their cuteness has an immense hold on us. Beyond that, presenting pandas as gifts conveys notions of guanxi 关系 (connections) and mingming 命名 (naming). Join Dr Cheng Wen-Haur from Mandai Wildlife Group, Dr Graeme Smith from Australian National University and Dr Lim Chye Hong from Singapore Art Museum as they shine a spotlight on panda mania, cross-cultural exchanges, and the protection of wildlife.
The programme will start from:8pm Singapore | 11pm Sydney | 1pm London | 2pm Berlin | 7pm Chiang Mai/ Jakarta
ABOUT COLLECTION AND CONNECTION
This talk explores the role of gifts in global diplomacy across cultural boundaries. These gifts, exchanged within the context of institutions that acquire, conserve and exhibit the tangible and intangible heritage of humanity, have fascinating stories to tell.
ABOUT THE SPEAKERS
Dr Cheng Wen-Haur is the Deputy Chief Executive Officer (Life Sciences and Operations) and Chief Life Sciences Officer at Mandai Wildlife Group. A veterinarian by training, Dr Cheng has held senior leadership positions in zoos in Australia and China. He is also the President of the Southeast Asian Zoos and Aquariums Association (SEAZA) and Chairman of the Board of Trustees of Species360.
Dr Graeme Smith is a Fellow in the Department of Pacific Affairs at the Australian National University. He is one of the few Western scholars to have worked within local government in China. He has won best article prizes awarded by China Quarterly and The Journal of Pacific History, and co-hosts the award-winning Little Red Podcast with former NPR and BBC China correspondent Louisa Lim.
Dr Lim Chye Hong is an art historian by training, with many years of experience in the museum and heritage sector, including curatorial, programming, and leadership positions in Australia and Singapore. A specialist in Chinese art with sound knowledge of Australian and Contemporary Art, Dr Lim is currently Head of Education, Programmes and Access at the Singapore Art Museum.
Cancellation
We reserve the right to cancel or reschedule the programme.
Photography and Videography
Please note that there may be photography and/or videography at the event. By attending you consent to your name, image, and/or voice on Zoom to be used for future communications both on and offline by SAM for publicity purposes. You may inform us if you do not consent.
Accessing the Programme
• This programme is conducted entirely on the Zoom application, which you may access via the app or using a web browser.
• Please ensure that you enter a valid email address as you will receive an email with the Zoom link to the online programme near the day of the programme.
• The link to the programme should not be shared with others.
• Do ensure you have a strong internet connection. Using your mobile data is not recommended.