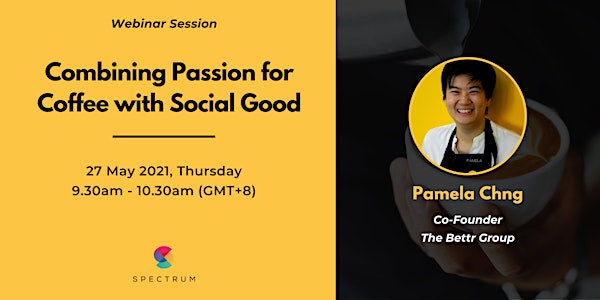 Combining Passion for Coffee with Social Good
Join this breakfast webinar to hear the inspiring story of Pamela Chng, Co-Founder of The Bettr Group.
About this event
"Do what you love, and you'll never work another day in your life." We've all heard this sentiment many times but is it actually possible to build a career out of your passion?
Pamela Chng, the Co-Founder of The Bettr Group, not only built a career out of her passion for coffee, she took it one step further and founded a company that ignites social change and is Singapore's first certified B corporation.
At this breakfast webinar, Pamela will share with us her inspiring personal and professional journey, the challenges and triumphs that shaped her company and led to her nomination as Singaporean of the Year 2020.
About the Speaker
Pamela Chng, Co-Founder, The Bettr Group
Pamela has over 19 years of start-up and business experience, and is the co-founder of The Bettr Group, a for- profit social business and vertically integrated specialty coffee company in Singapore that aims to change lives through coffee.
Through its education brand Bettr Barista and retail brand Bettr Coffee Co., it empowers lives through holistic vocational programmes for marginalised women and youth, nurtures direct and sustainable trade across their supply chain, and encourages socially and environmentally conscious consumption.
Prior to founding Bettr, Pamela co-founded, ran and grew a successful web consultancy, Digital Boomerang. She was also part of the pioneer team in the web division of Singapore Press Holdings as Head of International Online Advertising Sales and Business Development.
Pamela is the first Singaporean on the Board of Directors of the global Specialty Coffee Association and a World Barista Championship Certified Sensory Judge, World Coffee in Good Spirits Sensory Judge, Licensed Q Arabica Grader.
She is also a Six Seconds Certified EQ Assessor and has recently started a non-profit Bettr Lives to attempt to address one of our greatest collective challenges in the 21st century – the mental and emotional health of people.