How does design play a role in building communities and creating a sense of home?
About this Event
How might we rethink design as a process that could bring communities together? Join us to rediscover design as a community building tool, as community practitioners and design experts share how participatory design tools and methodology can be used in our local context to co-create public and social spaces.
This webinar is curated for designers and architects who have a passion for community design.
This event is organised by Participate in Design (P!D). Supported by DesignSingapore Council and National Design Centre. In partnership with BeFantastic: A Tech Art Initiative, COLOURS: Collectively Ours and Shophouse & Co.
This event is part of the National Design Centre's "Singapore: Our Home" programme line-up for August-September 2020.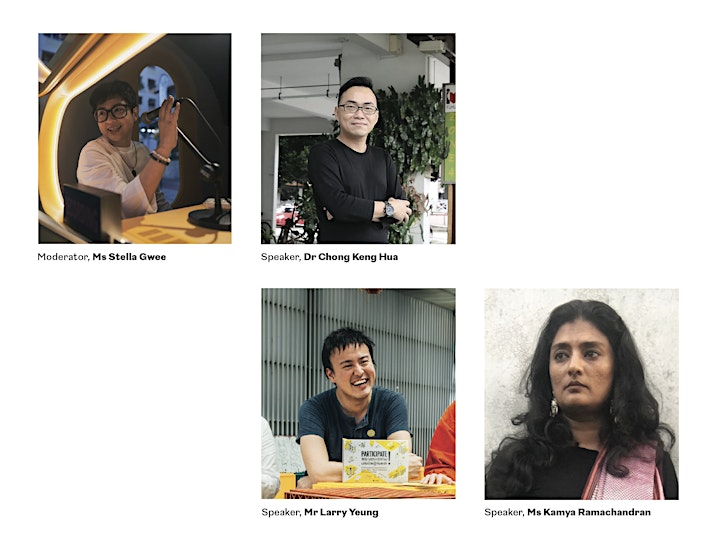 About the Speakers
Dr Chong Keng Hua, Founding Partner, COLOURS: Collectively Ours; Associate Professor, Singapore University of Technology and Design (SUTD)
Dr Chong Keng Hua holds a PhD in Architecture. He is the Principal Investigator of Social Urban Research Groupe (SURGe) and Co-Lead of Opportunity Lab (O-Lab) at SUTD. He is also the founding part of COLOURS; Collectively Ours LLP, an award-winning design consultancy specialising in collaborative public place design. He was appointed as a member of Jurong Lake District (JLD) Steering Committee in 2015 - 2017, advising the planning of Singapore's second CBD, and curator for Singapore Pavilion at the Venice Biennale International Architecture Exhibition in 2018.
Mr Larry Yeung, Executive Director, Participate in Design (P!D)
Mr Larry Yeung is a designer and community organiser who is a strong advocate for a participatory and community-centric approach in the design and planning of cities and neighbourhoods. Having previously practiced architectural design and project management in Singapore, he is currently the Executive Director of Participate in Design (P!D), a non-profit design organisation that helps neighbourhoods and public institutions design community-owned spaces and solutions.
Since the thesis for his Masters of Architecture at the National University of Singapore, Larry's portfolio of participatory-based works has expanded to include neighbourhood planning, public space design and community art installations; working in partnership with grassroots organisations, educational institutions, civic groups and government agencies.
Ms Kamya Ramachandran, Founder, BeFantastic: A Tech Art Initiative
Ms Kamya Ramachandran is a trained architect and practicing as a public space designer. She is passionate about engaging communities for a better designed world. She has had to craft an unusual career path for herself, going up against the grain and beyond the calling of the built environment expertise.
Engaging with design thinking for social impact, liaising with a range of stakeholders from the government, funders and local communities, and growing her tribe of urban public space enthusiasts through being a design educator, Ms Kamya does whatever it takes to imagine and execute projects that expands her niche. From contexts as wide as rural India to urban San Francisco, London and more recently, the hyper urban Bangalore and Singapore, she thrives in conceptualising, planning and bringing to reality projects that have at its core, the nexus between people and place.
About the Moderator
Ms Stella Gwee, Co-Founder, Shophouse & Co
Ms Stella Gwee is a publicist, marketer and event producer with over 15 years of industry experience dealing with arts, entertainment and luxury clients. She is an avid traveller who is passionate about music, culture, films, arts, design, travel and communities. Armed with an entrepreneurial spirit, Stella is also always brimming with ideas to help creatives turn their ideas into reality, while ensuring that projects are sustainable for the long run.