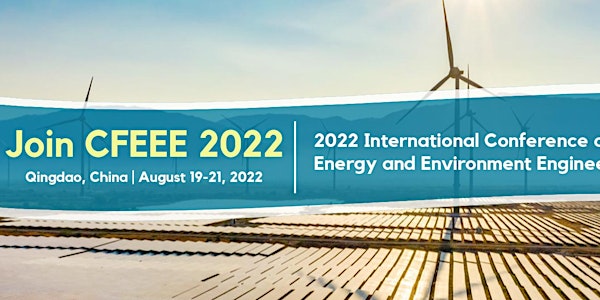 Conference on Frontiers of Energy and Environment Engineering (CFEEE 2022)
2022 International Conference on Frontiers of Energy and Environment Engineering (CFEEE 2022)
Date and time
Fri, 4 Nov 2022 08:00 - Sun, 6 Nov 2022 18:00 CST
Location
Beihai, China Beihai, China Beihai, China, 山东省 6666 China
Refund Policy
Contact the organiser to request a refund.
About this event
●2022 International Conference on Frontiers of Energy and Environment Engineering (CFEEE 2022)- Ei Compendex & Scopus—Call for papers  
August 19-21, 2022|Qingdao, China|Website: www.cfeee.org
●CFEEE 2022 provides researchers and industry experts with one of the best platforms to meet and discuss groundbreaking research and innovations in the field of Energy and Environment Engineering. 
International invited speakers are invited to present their state-of-the-art work on various aspects, which will highlight important and developing areas.
●Publication and Indexing
All accepted and presented papers will be published in digital conference proceeding, which will send to be reviewed and indexed by major citation databases such as Ei Compendex, Scopus, CPCI, Google Scholar etc.
Selected papers will be considered for submission in journal after significant extension.
●Keynote Speakers
Prof. John D Graham, Indiana University, USA
Prof. David Infield, University of Strathclyde, Glasgow, Scotland
●Program Preview/ Program at a glance
August 19: Registration + Icebreaker Reception
August 20: Opening Ceremony+ KN Speech+ Technical Sessions
August 21: Technical Sessions+ Half day tour/Lab tours
●Paper Submission
1. Submit Via CMT: https://cmt3.research.microsoft.com/CFEEE2022
2. Submit Via email directly to: cfeee@iased.org
●CONTACT US
Ms. Rita J. Ma
Email: cfeee@iased.org
Website: www.cfeee.org
About the organiser
IASED:
The International Academy of Science and Engineering for Development (IASED) is one of the world's influential scientific research union, which provides a forum for members to exchange and develop new ideas, insights, information, methodologies and experiences.
Since its Founding, IASED has been holding conferences featuring groundbreaking research, thought-provoking panels, and life-changing networking opportunities. IASED brings together the most pioneering minds in the science, technology, and engineering fields together at conferences that span the globe.