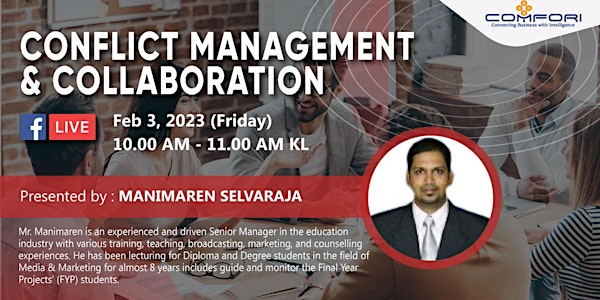 Conflict Management & Collaboration - Program Preview
Conflict should not perceive as an unpleasant and destructive influence; it can be used as a force for innovation and positive change
By Comfori- 5 Star Training Provider
Date and time
Thursday, February 2 · 6 - 7pm PST
About this event
Dear Business Professionals,
You Are Cordially Invited by Comfori to Join Our Webinar Preview Titled "CONFLICT MANAGEMENT & COLLABORATION"
What will you learn from this topic
Learn how to more effectively manage the conflicts and differences that arise as they perform their work, as well as how to create collaborative solutions as they interact with individuals and groups. Besides that, participants also will able to understand how to adopt a conflict in a positive manner in order to enhance their communication skills and be more productive at work station
Seats are limited. Quickly Book yours NOW by registering your FREE ticket.
What we are going to talk about in this 1 hour?
Date: 3rd February 2023
Time: 10.00am -11.00am
Venue: Virtual(ZOOM)
Duration: 45 mins (Discussion) + 15mins (Q&A)
Speaker: Mr. Manimaren Selvaraja
Trainer profile:
Mr Manimaren is an experienced and driven Senior Manager in the education industry with various training, teaching, broadcasting, marketing and counselling experience. He has been lecturing for Diploma and Degree students in the field of Media & Marketing for almost 8 years, includes guide and monitoring the Final Year Projects (FYP) students
Conflict Management: An Essential Skill to Nurture
Conflict is everywhere, and it is impossible to avoid conflicting viewpoints. However, not all conflict is severe, nor is it inherently negative. How conflict is handled makes all the difference. Proper identification and understanding of the conflict allow for effective resolutions, some of which may yield positive outcomes. In this course, we will examine the different types of conflict, how to understand and embrace the positive aspects of the conflict, and how to successfully navigate conflict to affirmative resolution
Conflict Resolving Skills
Positively resolving conflict is a skill that can be developed and practised. Being heard can be one of the most important goals of someone engaged in conflict. Knowing how to listen and deploy appropriate communication tactics determines whether a conflict will have a positive or negative resolution. Examine listening skills, appropriate and strategic verbal and non-verbal communication skills, and how to assemble a conflict management plan likely to yield favourable resolutions
Intercultural Communication and Conflict Resolution
Intercultural Communication and Conflict Resolution are growing areas of importance, considering the pace and volume of global transactions. The ease of international communication using technology, the abundance of cheaper transportation costs, and the frequency of businesses using cross-border talent foster millions of daily interactions between people of different cultures. Examine how conflict can further complicate communication during interactions between people of different cultures. We will explore the topics of stereotypes, generalizations, communication styles, communication strategies, and communication orientations
Sign-up or Register for the FREE Ticket NOW!
WEBINAR DETAILS
Date: 3rd Feb 2023 (Fri)
Time: 10:00am-11:00am
Online Platform: ZOOM (Link will only send to each participant via email or WhatsApp one day before the event.)

About the organizer
Comfori is a HRDF-certified frontrunner in the training and development sphere, evolving and expanding over the years to offer high-impact services such as in-house trainings, workshops, conferences, exhibitions, team building programs as well as online trainings. We at Comfori pride ourselves in putting our customers first, ensuring quality every step of the way.
Why should you choose Comfori as your #1 training provider?
Proven Capability: Our track record speaks for itself. Established in 2002, we bring to the table almost 20 years of experience and industry know-how. Connecting you with industry experts and is what we do best.

Outstanding Variety: Comfori brings you more than 500 training courses, varying according to your training needs.

Save Time & Gain More : Reduce and eliminate the time you spend on managing training programs--we provide an all-inclusive service, from top to bottom with a high visibility of your investment benefits and a guaranteed response time.

Quality Service : Comfori ensures high quality of service and professionalism throughout the program and event, and we take your feedback very seriously as continuous improvement is our organisation's priority.

Follow us at our social media for more updates:

Facebook: https://www.facebook.com/Comfori/
Instagram: https://www.instagram.com/mycomfori/
LinkedIn: https://www.linkedin.com/in/comfori-sdn-bhd/