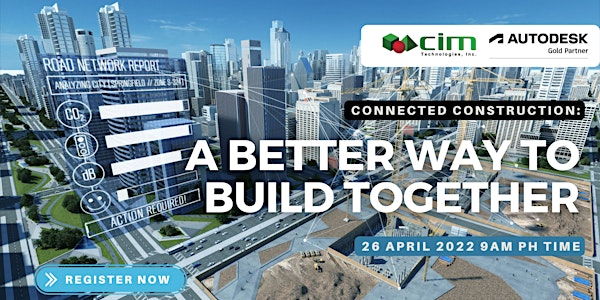 Connected Construction: A Better Way To Build Together
Connected Workflows: A Better Way To Build Together
About this event
Date: 26 April / Tuesday
Time: 9:30AM-11:30AM (9AM Standby)
CONNECTED CONSTRUCTION:
Seamlessly collaborate:
Linked workflows moves information between teams quickly, and critical context doesn't get lost along the way. Plan, escalate and resolve work—all in one place.
Learn a better way to build, together.
Autodesk Construction Cloud connects workflows, teams and data at every stage of construction to reduce risk, maximize efficiency, and increase profits.
In this webinar, we'll take a look at how Autodesk Construction Cloud's simple and powerful solutions can transform your business. We'll also highlight specific product updates that enable this flow of critical information throughout the project lifecycle
Speaker: Engr. Viel Rimando
Solutions Specialist, CIM Technologies, Inc.
Who Can Attend: Architects, Developers, Design/Technical Engineers, Design/Technical Consultants, Engineers, Project Managers, Building Owners, Contractors
Note:
Complete your registration to receive online event link (Zoom)
Event Certificate, available upon request