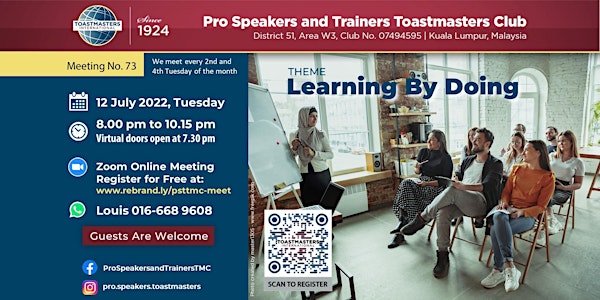 Conquer Your Fear of Public Speaking at Pro Speakers Toastmasters Club
Join our safe, supportive and fun experience for you to learn and practice your public speaking skills. All are welcome to join for FREE.
About this event
Come join our meeting to experience how we offer a safe, supportive and fun environment so you can practice your public speaking skills to help you in your personal development or to advance your career.
To know what happens at a typical Toastmasters meeting, view this video (4m 38s): https://youtu.be/383gehepo8M
Please register at www.rebrand.ly/psttmc-meet to get your Zoom link to join the meeting on Tuesday, 12 July 2022. We welcome everyone to join for free.
Facebook Event: https://fb.me/e/2MB84jK8p
Theme of the meeting: Learning By Doing
About Our Club
Pro Speakers and Trainers Toastmasters Club in Kuala Lumpur, is a non-profit communications and leadership skills development organisation that is part of Toastmasters International (https://www.toastmasters.org/membership/why-toastmasters).
Like our Facebook Page: https://www.facebook.com/ProSpeakersandTrainersTMC
We meet at 8.00 pm to about 10.15 pm every 2nd and 4th Tuesday of the month. Click this link to add our meeting dates to your Google Calendar: www.rebrand.ly/psttmc-calendar
#PSTTMC #ProSpeakers #ProSpeakersAndTrainers #speakers #trainers #Toastmasters #ToastmastersInternational #ToastmastersClub #communication #publicspeaking #leadership