Description
Here's a short video to share on what you can expect at our workshops :)

Time: 10am to 6pm | Max. 6 Participants
Hands-on Workshop, 80% of the workshop consist of hands-on brainstorming and activities.
What you will take away from this Hands-On Workshop:
• Learn what content marketing is, and how it helps in lead generation
• Understand the key principles and mechanics of content marketing
• Learn how to develop effective content skills using a systematic approach and framework
• Learn how to write better content for your product, services and business
What will be taught in this Hands-on Content Marketing Course?
1. Introduction

- Trainer's Introduction
- Participant's Introduction
- Learning Outcomes

2. Content Marketing

- Definition
- Examples of Content Marketing / Development
- What is copywriting?
- Examples of content that requires copywriting / content writing
3.1 What can good content do for your business

- More effective and impactful branding
- Drive organic traffic and reduce reliance on paid channels
- Building deeper, long-term relationships with customers
- Lead generation with Content Marketing


3.2 Buyer's Journey
- Definition & Explanation of buyer's journey (10 Min)
- Toilet & Tea Break (10 Min)
- Brainstorm participant's own buyer's journey (15 Min)
- Discussion & Feedback of buyer's journey (45 Min)


4. Case Study
- Good and Bad Contents in different formats: Blog, Facebook, Video?

5. Writing Activity
- Based on buyer's journey


6. The key elements to a good content

- Principles and key fundamentals
- Guidelines

7. Common Mistakes in Content Development

(a) Examples
(b) Revision, Consultation and Question & Answer

8. Framework for Content Development

(a) Theory and framework (20 Min)
(b) Hands on practice & trainer's feedback (30 Min)
(c) Toilet & Tea Break (10 Min)

9. Hands-on practice for headline and trainer's feedback

- Client's example from Trainer - 5 Min
- Hands on practice - 10 Min
- Trainer's review and feedback - 15 Min

10. Hands-on practice for writing tone & angle, and trainer's feedback

- Client's example from Trainer - 10 Min
- Hands on practice - 10 Min
- Trainer's review and feedback - 20 Min

11. Repurposing Content for different platforms (I.e Landing Page and Facebook)

- Trainer to provide content and write up (5 Min)
- Hands-on practice (20 Min)
- Trainer's feedback and Review (25 Min)

12. Final consultation time with Trainer

By the end of the course, you will be a better Content Marketer for your work and business.
What you'll need to bring to class:
• Laptop & Charger
• Mouse & Mouse Pad


What you need to know (for Singaporeans above 25 years old):
This workshop is SkillsFuture Approved & Claimable.
No cash required. Email us at skillsfuture@skycrm.asia for payment instructions to pay us directly with your SkillsFuture Credits.


Course code on SkillsFuture Directory: CRS-N-0043408

This is a Certificate Workshop. Receive a Certificate of Completion upon completion of the workshop from Sky Digital Agency.



PIC Grant: 40% of course fee
For company sponsored individuals, your company can claim 40% of course fee (for training conducted by external vendor) from PIC if your company is eligible.
More about the PIC Grant: https://goo.gl/qlldQz


P.S. For company sponsored employees, companies get to claim $2/hour from SkillsConnect's Absentee Pay Roll.
About the Trainer
Joanne has seven years of active experience in communications, content strategy and content development work, including roles at the Singapore Tourism Board and global PR agency Golin. She has worked with a range of clients from corporate organisations to consumer brands.
In an age of the digitally empowered, she strongly believes in the power of content to transform brands and businesses, deepen consumer engagement and drive leads in more effective, meaningful ways.

Joanne copywrites and curates content for clients at Sky Digital Agency, if you would like to learn more about Content Marketing, join us at the workshop!

Sky Digital Agency currently has 5 Workshops SkillsFuture Approved and Claimable.

- - - - - - - - - - - - - - - - - - - - - - - - - - - - - - - - - - - - - - - - - - - - - - - - - - - - - -
Here are some generous workshop reviews our participants have left us on our Facebook Page on how our workshops have helped them be a better marketer for their work, business, and startup:
You can also read even more testimonials on our workshops on our Facebook Page Reviews


FAQs
1. Who can i contact should i have questions?
You may e-mail us at workshops@skycrm.asia


2. Is there a minimum class size to proceed?
Yes. We require a minimum class size of 3 people to proceed with the class.
In the event that there are insufficient participants, we reserve the right to reschedule the class. Under such circumstances, we will inform you no later than 3 working days before the event.

3. Where is the venue of the workshop?
6 Raffles Quay, #15-00, Singapore 048580
Nearest MRT: Raffles Place, take exit "i". The building 6 Raffles Quay is just beside Ascott at Raffles Place.

4. I'm driving, where can I park?
There is parking space at the building 6 Raffles Quay itself at $2.50 per 30 min block.
For weekend classes, we recommend our participants to park at SGX Centre, at $3 per entry.


3 hour workshop on "Ways to Effectively Retain Learning Through Better Visual Presentations" with 40 working professionals at Life Long Learning Centre, under Institute of Adult Learning (IAL)




Would you like to create amazing visual presentations with your PowerPoint and Keynote Applications? Join us for our Infographics & Visual Content Marketing workshop, SkillsFuture Approved & Claimable. Alternatively, you can email us at workshops@skycrm.asia to enquire about our workshop schedules.




Corporate Training with 15 staff from Singapore University of Technology and Design. If your company or organization would like to engage us for an in-house corporate training for your staff or employees, do reach out to us at trainings@skycrm.asia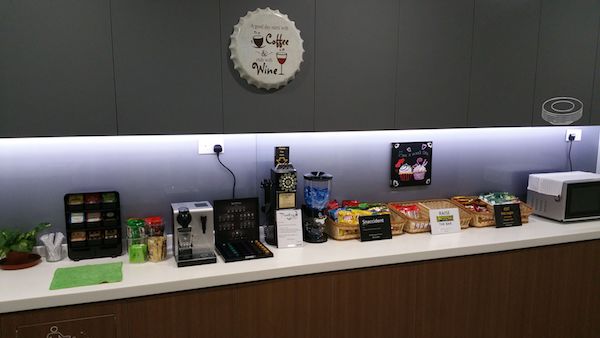 Don't you just love the pantry. Makes learning more fun when you have different hot drinks to keep you awake! We mean... to help you focus!