Description
Contiki Celebrates Ren Ri at Mox with creative storytelling!
According to Chinese customs, Renri was the day human beings were created. Join us for the Birthday Party you've never had before! Centered around creative storytelling, we want you to join us for an adventure-filled afternoon and learn about Contiki's Travel Project.
Come hear, see, taste, touch and share stories. Discover your hidden talents and new passions. We could not have picked a better place where your life adventure will start. Meet new people, get out of your comfort zone, try your hand at something new. Explore MOX's speciality rooms like its photography studio, 3D printing room, sewing rooms, workshop rooms and other facilities provided for the community. Learn to tell your story with photos, get insights on what type of storytelling works best for youth communities, or listen to his (and her story).
Everyone is invited to our party and bonus points if you're young (if you are between the ages from 18 to 35 years old - find out how you can benefit from story-telling). To join, get on the list, please RSVP here by 20 Jan.
For more info, email Florence.ang@ttc.com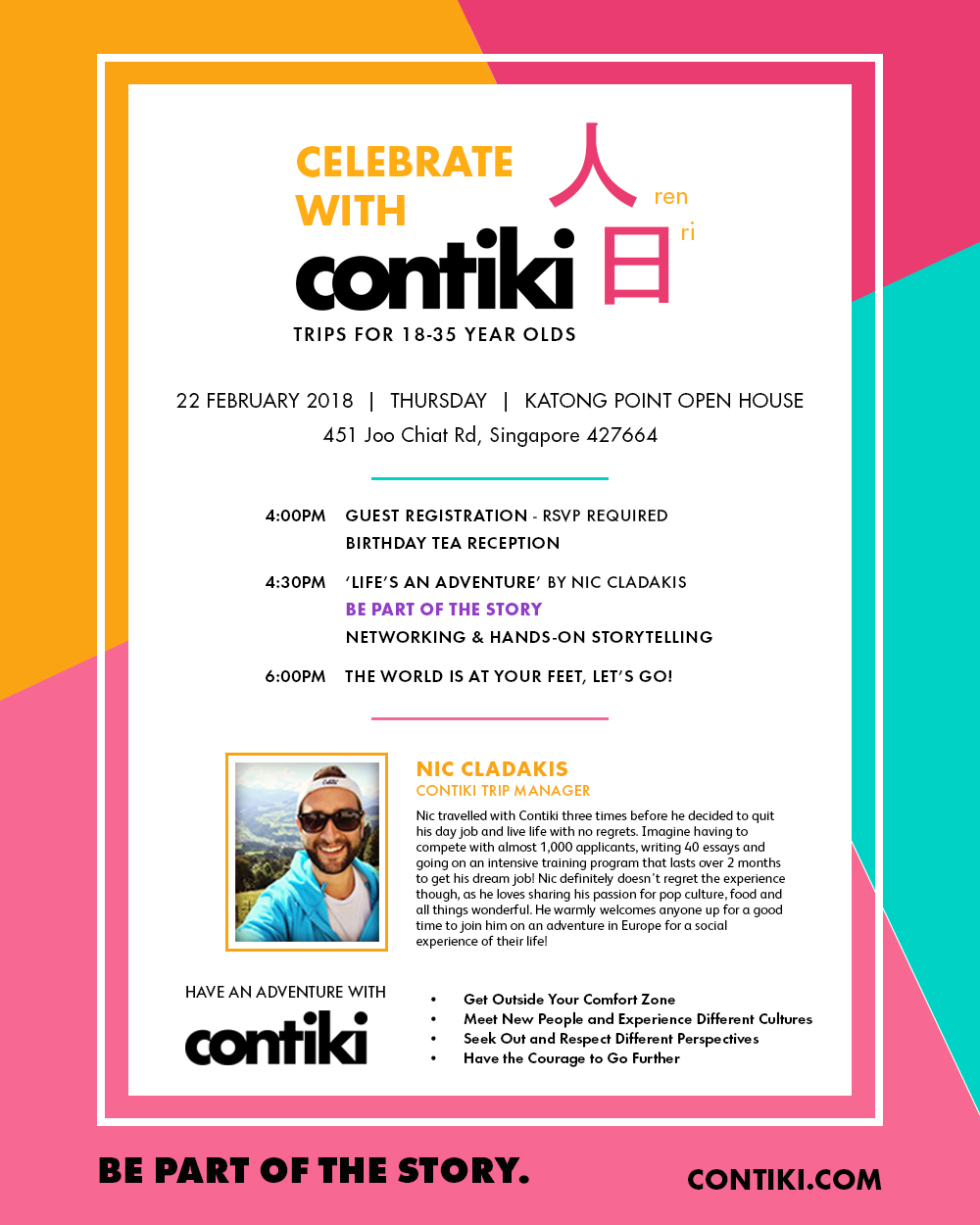 The Story of how Contiki came to celebrate Ren Ri 2018 at Mox
We were looking for a fun and different way to celebrate being young on Ren Ri.
We want to inspire people to be better versions of themselves and it was serendipity that we met the Mox team. It was love at first sight - we fell in love with our party venue (and of course the people behind Mox).
MOX is where Makers Remake the Extraordinary. MOX is an ecosystem. It's a 4-storey building with 40,000 sq ft of co-making space. A community in the heart of Joo Chiat, MOX is the first independent design resource workspace in Singapore.
We want to kick start the Year of the Dog with new adventures so every young person is invited to join us on this special day. Plus, come and meet Nic Cladakis, our Contiki Trip Manager from Europe if you want travel tips and advice about starting your own adventure.
Some interesting storytellers

1. "My Adventure" Digital Photo Exhibition by Jeryl Tan a self-taught photographer who travelled on a Contiki Greek Island Hopping trip where he visited Athens, Mykonos, Santorini.
2. Her Story by Christina Teo, founder of Want Things Done - Christina is a well-travelled, global and cultural savvy entrepreneurship mentor with a strong business and marketing acumen and currently much abreast about the startup scene. Christina has a strong corporate background in technology and mobile with over 20 years of experience. She was the first General Manager for Yahoo in Singapore and South East Asia and has worked in companies like CSL, O2, 3Com, DEC, IBM, and Acer. She has lived in Europe, New York, Taiwan, and Hong Kong where she worked in regional and country roles. She is also the chief community of Startup Asia Women.