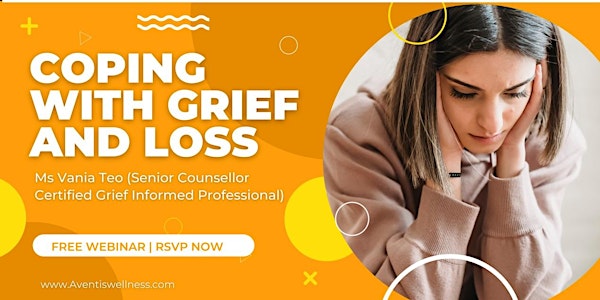 Coping with Grief and Loss
Coping with Grief and Loss. Whatever type of loss you've suffered, there's no easy way grieve, learn from Certified Grief Counsellor.
About this event
Coping with Grief and Loss
Whatever type of loss you've suffered, there's no right or wrong way to grieve. But by understanding the stages and types of grief, you can find healthier ways to cope.
Different Types of Grief and Loss
Coping with the loss of someone or something you love is one of life's biggest challenges. You may associate grieving with the death of a loved one—which is often the cause of the most intense type of grief—but any loss can cause grief, including:
Divorce or relationship breakup
Loss of health
Losing a job
Loss of financial stability
A miscarriage
Retirement
Death of a pet
Loss of a cherished dream
A loved one's serious illness
Loss of a friendship
Loss of safety after a trauma
Selling the family home
Learn from Ms Vania Teo (Senior Counsellor Certified Grief Informed Professional)
Join Ms Vania Teo and learn about the deep impact of grief and loss in the workplace, and how you can help others (including yourself) to work it through in this enlightening 1 hour webinar
About Aventis Wellness
Aventis Wellness (AW) is an evidence-based Employee Assistance Program (EAP) and Counselling Provider. At Aventis Wellness, we recognize the importance of mental wellness and strive to offer affordable and accessible counselling and coaching services in full confidentiality. We bring together a community of industry practitioners, mental wellness experts, university partners, counsellors, therapists and learners.
www.aventiswellness.com