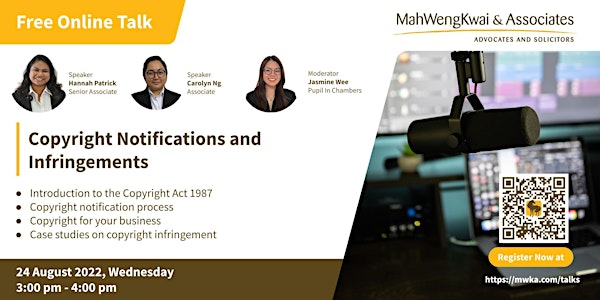 Copyright Notifications and Infringements
MWKA Online Talk: Copyright Notifications and Infringements
About this event
Wednesday, 24 August 2022 at 3:00pm - 4:00pm
★SPEAKERS
Hannah Patrick, Senior Associate, Dispute Resolution Practice Group
Carolyn Ng, Associate, Dispute Resolution Practice Group
★ABOUT THIS ONLINE TALK
Are you an author, composer, content creator or business owner who has wondered how to better protect your copyright? Do you know how notifying the Intellectual Property Corporation of Malaysia (MyIPO) of your copyright adds value to your creation or business?
Join us for this talk as we take you through the copyright laws in Malaysia and the MyIPO notification process. We will also take a look at copyright cases that have been decided by the Malaysian Courts and how the law has been applied against copyright infringers in Malaysia.
The talk will be delivered over video conference using Zoom.us. You can either view the talk from your web browser or download the Zoom app.
★TALK POINTS
Introduction to the Copyright Act 1987
Copyright notification process
Copyright for your business
Case studies on copyright infringement
★SPEAKERS
Hannah graduated from the University of Malaya with a Bachelor of Laws (Hons) in 2012 and was admitted to the High Court of Malaya in 2013 and to the High Court of Sabah and Sarawak in Sarawak in 2017.
Having completed her pupillage under the guidance of Mr Raymond Mah, she joined MahWengKwai & Associates as an Associate in 2013. After being to called to the Sarawak Bar, she rejoined the firm in 2017.
Hannah's practices in the areas of general litigation, construction law, administration of estate and debt recovery.
----------------------------------------------------------------------------------------------------------
Carolyn Ng graduated with a Bachelor of Laws First Class Honours from the University of the West of England in 2019 and completed her Bar Professional Training Course (BPTC) in 2020 and was admitted as a member of the Honourable Society of Lincoln's Inn. She commenced her pupillage in MahWengKwai & Associates under the guidance of Ms Lesley Lim.
Carolyn completed her pupillage in October 2021 and was admitted as an Advocate and Solicitor of the High Court of Malaya in March 2022. Carolyn's areas of practice include general litigation, strata management, employment law and intellectual property.