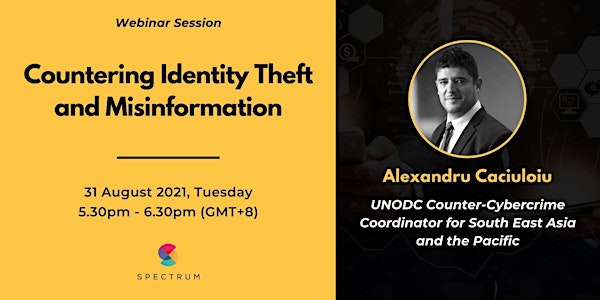 Countering Identity Theft and Misinformation
Join our webinar to learn about how stolen data is used to commit fraud and how to protect yourself against synthetic identity theft.
About this event
Data breaches have been a prevalent issue and Risk Based Security revealed in their 2021 Mid Year Data Breach QuickView Report that 18.8 billion records were exposed in the first half of 2021 alone.¹ But what happens to the identification numbers, addresses and other personal information that gets stolen?
Stolen user data is sold on the dark web and criminals create synthetic identities out of real and fake information to apply for credit. According to FICO, 6 out of 10 banks in APAC experienced a rise in these complex fraud schemes² and companies were tricked into providing goods to users who don't exist.
Fraudsters build their credibility over time to obtain a strong credit score and disappear when credit is due. Aite Group projects that synthetic identity theft for unsecured U.S. credit products will total to US$1.8 billion in 2020 and grow to $2.42 billion in 2023.³
In our next webinar, we have the opportunity to hear from United Nations Office on Drugs and Crime's (UNODC) Counter-Cybercrime Coordinator for South East Asia and the Pacific, Alexandru Caciuloiu, as he discusses the findings, trends and solutions that UNODC is working on with stakeholders to mitigate threats like these and highlight how ransomware is also affecting businesses in a big way.
About the Speaker
Alexandru Caciuloiu, Cybercrime and Cryptocurrency Advisor and Regional Coordinator for South East Asia and the Pacific, United Nations Office on Drugs and Crime (UNODC)
Alex is the UNODC Cybercrime and Cryptocurrency Advisor and Regional Coordinator for South East Asia and the Pacific, based in the Regional Office in Bangkok, Thailand. In this position, he is responsible for building and strengthening the region`s capabilities and response to cybercrime and cybersecurity. He is doing so by providing technical assistance, expertise and capacity building as well as assistance with policy making and legislative harmonization and representing the United Nations on cybercrime diplomacy matters in the region.
Prior to joining UNODC, Alex was a Digital Crime Officer with INTERPOL Global Complex for Innovation based in Singapore. Whilst at INTERPOL, he spent the initial part of his posting coordinating cybercrime investigations and the latter part of his posting focused on building and strengthening the capacity of INTERPOL member countries to fight cybercrime.
Alex joined the Romanian National Police in the Counter Organized Crime Brigade in 2007 as a cybercrime investigator. In this position he conducted investigations and intelligence gathering on cybercrime as well as performing digital forensics examinations.
Alex is originally from Constanta, Romania, holds B.Sc. Law and M.Sc. Business Law.