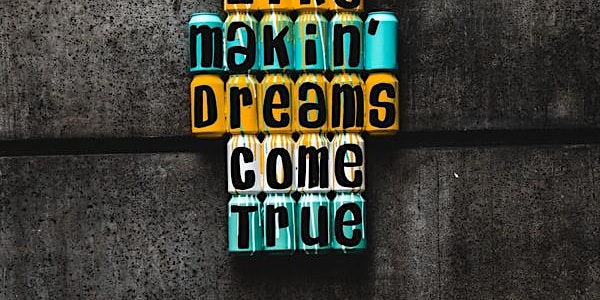 Create your LIFE VISION BOARD WORKSHOP
Create your Future - VISION BOARD WORKSHOP
Refund Policy
Contact the organizer to request a refund.
About this event
Create Your Future - Vision Board Workshop
"Have the courage to follow your heart and intuition.
― Steve Jobs
Most of us have fleeting ideas of what we want to be, do or have in our lives. But they remain just that: fleeting.
After all, who has the time to intentionally get clear about what we want to create?
Well, even science now supports that you can intentionally create outcomes by using a simple tool: Vision Boards.
A Vision Board is a way to sell your own ideas to yourself, to anchor to your dreams and to allow the magic of manifestation to work in your life. Finally!
As someone who has made my own Vision Boards (and manifested some amazing results!), I've learned it's more than just slapping a picture onto a poster board. It's about first getting clear on your authentic life, letting go of what's in the way – and then clearly connecting with your dreams while designing a vision that calls to you.
The last workshop was so much fun with incredible feedback from the participants. That's why I'm leading another CREATE YOUR LIFE VISION-BOARD WORKSHOP - to give you the space you need to intentionally define your dreams and create a Vision Board that will effortlessly attract your ideal outcomes and enable you to take your life and business to the next level!
Here's What You'll Get:
Clarity on what you really want (no more settling for someone else's dreams)
Space and time to map out your ideal outcomes in each area of your life
Connection with like-minded leaders (no Negative Nellies permitted!)
A method to clear out the natural "gunk" that arises (time to let go!)
All the tools and time to create your own powerful Vision Board (please cut out pictures from magazines, it can be the items you wanted, or house you wanted, or travel to specific countries, or wanted the type of life)
It will be online via zoom. Restricted to only 15 like-minded people.
Your very own Vision Board to take home and effortlessly attract your ideal outcomes in the months ahead.
Upon making payment, please email to julia@styleandbeautyexperts.com. Min. 6 paxs to start this workshop.
​Zoom Meeting Etiquette:
- Participants must turn on videos
- Mute your microphone
To help keep background noise to a minimum, make sure you mute your microphone when you are not speaking.
- Be mindful of background noise
- Position your camera properly (Must be turn on) If you choose to use a web camera, be sure it is in a stable position and focused at eye level, if possible. Doing so helps create a more direct sense of engagement with other participants.
- Limit distractions
You can make it easier to focus on the meeting by turning off notifications, closing or minimizing running apps, and muting your smartphone.
Enjoy your workshop with Style Coach Julia Shantal!