Delight, Hope, Inspiration - What do these emotions have to do with design?
About this event
In a first ever collaboration between the President*s Design Award Singapore (P*DA) and the Golden Pin Design Award Taiwan (GPDA), this webinar brings together award recipients from Singapore and Taiwan to discuss and exchange perspectives, drawing on their respective cultures.
The four designers will share case studies and discuss how design can be used to evoke emotional responses to create impact and serve a greater purpose. Learn how design can communicate serious issues in creative ways that speak to hearts and minds, and how spaces can be designed to bring delight and promote harmony.
Join us and be inspired to create a better world by design!
Programme Schedule:
• 4pm: Welcome and Introduction
• 4.05pm – 4.45pm: Presentation by speakers
• 4.45pm – 5.05pm: Joint discussion
• 5.05pm – 5.30pm: Q&A
透過設計, 可以創造更好的世界嗎?看似抽象的「情感」, 可能是意想不到卻有效的切入點。
金點設計獎與新加坡最高設計榮譽「總統設計獎」首度跨海合作, 將於3 / 2 5 ( 四)舉辦線上論壇, 各邀請兩位歷屆得主, 從自身文化出發交流設計經驗與觀點。
四位來自台灣及新加坡的設計師, 將分享他們如何透過設計引發人們情感、產生影響, 甚至推動改變。在本次論壇, 一起聽聽設計師們如何運用創意, 與社會公眾溝通嚴肅複雜的議題; 如何透過空間或體驗設計, 帶給人們愉悅正向的感受, 進而思考與環境和諧共存之道。
活動流程:
1600: 主持人開場
1605 - 1645:講者分享
1645 - 1705:線上對談
1705:Q&A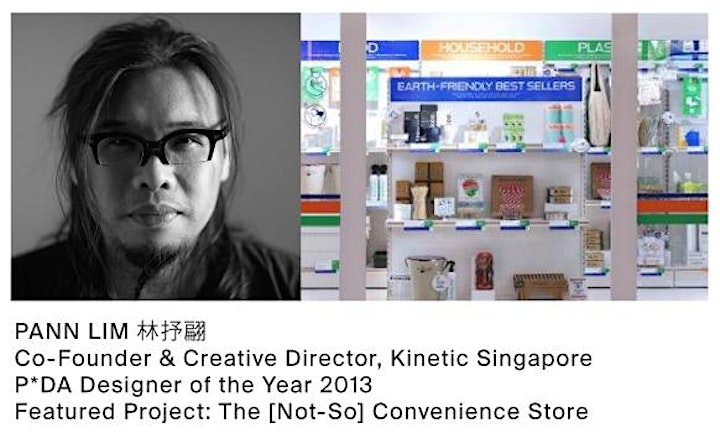 林抒翩/聯合創辦人兼創意總監
2013 總統設計獎年度設計師
不便利商店
Pann Lim is the Co-Founder and Creative Director of Kinetic Singapore, Holycrap.sg and Rubbish Famzine. He is addicted to design, advertising and communications, strongly believing that creating work without an idea is a sin. This belief has earned him over 450 industry awards locally and aboard, including Singapore's highest design accolade, the President*s Design Award, in 2013 and 2015. Pann is passionate about nurturing fledglings and sharing his love for creativity.
知名廣告公司Kinetic Singapore共同創辦人暨創意總監。熱愛設計、廣告及傳播領域,深信任何創作沒有核心概念就是種罪過。他豐沛的創意能量,除了挹注在廣告及設計事業,更與家人共同創辦藝術工作室Holycrap.sg及《垃圾雜誌》(Rubbish FAMzine)計畫,後者曾獲2015總統設計獎年度最佳設計殊榮。從業生涯至今已於新加坡及國際間拿下超過450座獎項,包括紐約金鉛筆獎(The One Show)、坎城廣告獎(Cannes Lions)、英國D&AD黃鉛筆獎(Yellow Pencil)等。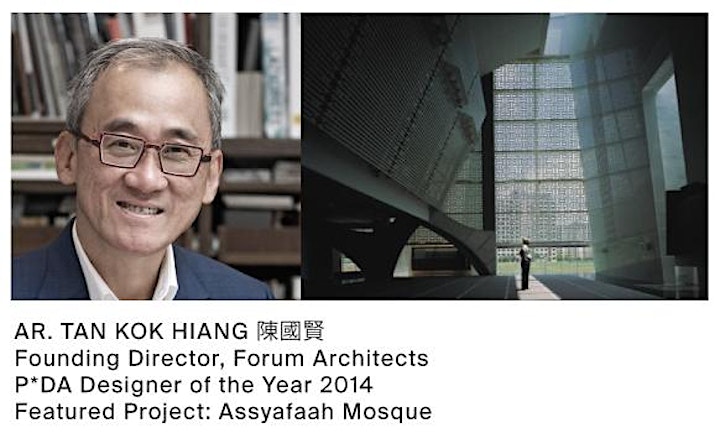 陳國賢/Forum Architects 創辦人
2014 總統設計獎年度設計師
阿斯雅法清真寺
Tan Kok Hiang is a Founding Director of Forum Architects, a firm based in Singapore since 1994. He obtained his Bachelor of Architecture (Hons) from the National University of Singapore (NUS) in 1987. In 2014, Kok Hiang was named Designer of the Year at the President*s Design Award and his firm has won more than 55 local and international awards in the past 25 years. These include the Chicago Athenaeum International Architecture Award in 2016 for the Yale-NUS college and the URA Architectural Heritage Awards for Restoration in 2018 for the Jurong Town Hall Restoration project.
Kok Hiang is a Professor in Practice at the NUS Department of Architecture. He also chairs the National Heritage Board's Preservation of Sites and Monuments, helming a subject that is close to his heart. He has served on design advisory panels for the Housing Development Board, URA and the Advisory Board of the NUS. He is also a Jury member of the President*s Design Award Singapore 2020.
Forum Architects建築事務所創辦人、新加坡國立大學建築系教授,並於國家文物局主持古蹟遺址保存計畫。作品遍布亞洲多地,除飯店等商業性建築作品,絕大部分投入於文教或城市建設,包括耶魯–新加坡國大學院、裕廊鎮大會堂修復計畫,曾獲總統設計獎、芝加哥雅典娜建築設計博物館國際建築獎等殊榮肯定。相信建築能改變人們的日常生活,精心設計的空間、美感應有的提升,都能為人們的精神層面帶來助益。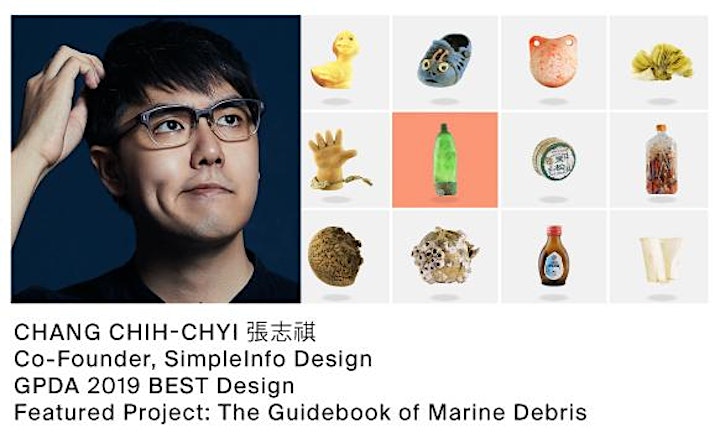 張志祺/簡訊設計共同創辦人
2019 金點設計獎年度最佳設計
海廢圖鑑
Chang Chih-Chyi is the Co-Founder of SimpleInfo Design, which is an information design company that has executed more than 150 information design works since its establishment in 2015. Consisting of strategists, animators, graphic designers, illustrators and web designers, SimpleInfo Design brings together individuals with different expertise to facilitate interdisciplinary collaboration, striving to present complex ideas in a more engaging and easy-to-understand way for the target audience. SimpleInfo Design was the recipient of the Golden Pin Design Award every year from 2016 to 2020.
Chih-Chyi is also a well-known Youtuber in Taiwan. His channel, "志祺七七 X 圖文不符" analyses real-time issues and current affairs, and has over 700k subscribers.
簡訊設計、圖文不符、志祺七七共同創辦人。29 歲,成功大學都市計劃學系畢業;總是在減肥,是個憎恨熬夜、但每天都熬夜的矛盾男子。為台灣協作過最多圖文懶人包的人之一。致力於社會關鍵議題與資訊設計的整合與推廣,並在資訊設計的領域裡,不斷地努力。曾兩次榮獲德國紅點設計大獎 Best of the Best、金點設計獎年度最佳設計獎與多項國際設計大獎。近期亦投入YouTube影片創作,兩年多時間已累積了70萬訂閱,與超過一億的觀看次數,是個劈腿級的跨領域創作者。
張耿華/豪華朗機工共同創辦人
2019 金點設計獎年度最佳設計
聆聽花開的聲音
Chang Geng-Hwa is the Co-Founder of LuxuryLogico, which was started by four young creatives born in the 1980s: Chen Chih-Chien, Lin Kun-Ying, Chang Keng-Hau, and Chang Geng-Hwa. The four young creatives specialises in visual art, machinery installation respectively, new media, and audio. Together, the group has created spectacular installations that integrate unconventional materials.
Geng-hwa focuses on sculptures and mechanical installations. His creative work embraces a "hybrid" concept, and integrates elements of the natural environment and modern technology. LuxuryLogico's body of work is a reflection of their thoughts and ideas of contemporary society- expressed through various forms and genres such as music, visual arts, design installations, drama, movies, dance, architecture, pop music, and economic behavioural studies.
豪華朗機工共同創辦人,主攻視覺、造型雕塑及機械裝置。由四位1980年代左右出生的新銳藝術家陳志建、林昆穎、張耿豪及張耿華組成的「豪華朗機工」,以「混種跨界」為創作概念,取材於自然環境,討論奇觀社會中的人性思維,希望在科技及人文兩個極端中取得和諧、激發創意,並利用「音樂、視覺、裝置、文本」共陳手法,使面向千變萬化,作品跨界戲劇、電影、舞蹈、建築、流行音樂、經濟行為。近年著名作品包括:2017台北世大運聖火裝置、2018台中花博「聆聽花開的聲音」裝置、2021台灣燈會主燈「乘風逐光」等。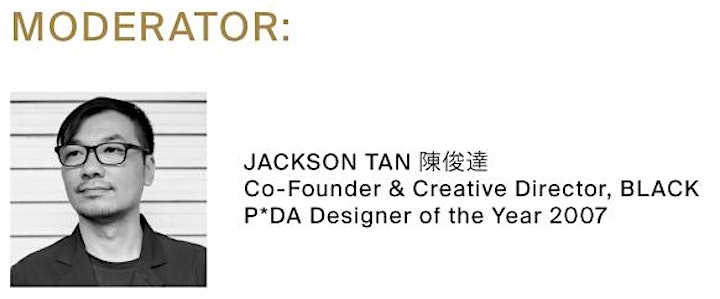 陳俊達/BLACK 聯合創辦人兼創意總監
2007 總統設計獎年度設計師
Jackson Tan is the Co-Founder and Creative Director of BLACK, which has collaborated and worked with brands and clients such as Nike, MTV, The Rolling Stones, Asian Civilisations Museum, DesignSingapore Council, Herman Miller, UNIQLO, Levi's and Tiger Beer. Notable projects include the brand concept and identity of SG50, a commissioned design created to celebrate Singapore's golden jubilee, and the experience design of the Peranakan Museum.
Jackson was conferred the Designer of the Year in 2007 by the President*s Design Award, the highest accolade for designers in Singapore. His works have also received the Golden Pin Design Award in 2018, and the Golden Pin Design Award Design Mark in 2020 and 2017.
新加坡知名設計工作室BLACK共同創辦人兼創意總監。聚焦於品牌識別、策展等設計,合作客戶如Nike、MTV、Herman Miller、UNIQLO、Levi's、虎牌啤酒等知名品牌,及滾石樂團、亞洲文明博物館、新加坡設計理事會等。著名作品包括為新加坡金禧國慶打造品牌概念及識別設計、土生華人博物館體驗設計等,曾獲2007總統設計獎年度設計師殊榮,作品並於2017、2018及2020金點設計獎屢獲標章肯定。

The webinar will be conducted in English and Mandarin, with simultaneous translation available on Zoom. Simultaneous translation will not be available on Facebook's live streaming. 
This event is also part of the National Design Centre's 'Emotive Design' programme line-up for March 2021. 
此場線上講座將以中英文雙語進行,由網站線上報名並以Zoom參加講座將提供線上即時口譯。由Facebook活動頁直播觀看講座則無即時口譯。
此活動為新加坡國家設計中心「情感設計」系列活動3月場。
Organiser of Creating a Better World by Design through Delight, Hope & Inspiration
DesignSingapore Council's (Dsg) vision is for Singapore to be an innovation-driven economy and a loveable city through design by 2025. As the national agency that promotes design, our mission is to develop the design sector, help Singapore use design for innovation and growth, and make life better in this UNESCO Creative City of Design. The Dsg is a subsidiary of the Singapore Economic Development Board. www.designsingapore.org