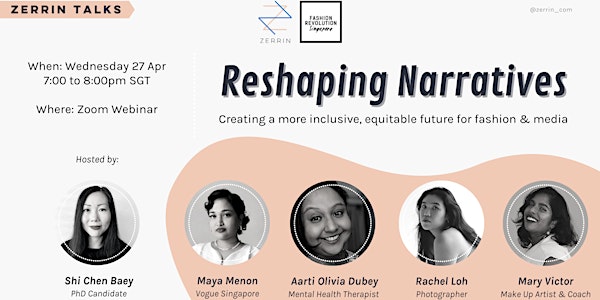 Creating a more inclusive, equitable future for fashion & media
How does media impact the fashion industry? What needs to shift so it can become more sustainable, inclusive and equitable?
About this event
From magazines to influencers, the media industry plays a huge part in influencing how we consume fashion. Media outlets and brands hold power to set trends, dictating how we should look and what we should wear. Historically, this has gone hand in hand to perpetuate the fast fashion cycle, encouraging overconsumption while alienating those who are underrepresented, or feel they don't fit the mould.
Today, a counter-movement is flourishing; of citizens taking back power to demanding that brands communicate more purposefully and ethically, and no longer just pay lip service to (or in some cases, ignore) crucial topics like diversity, inclusivity and sustainability.
What is causing this shake up? How are media outlets evolving and approaching topics like sustainability, inclusivity and diversity, both internationally and locally in Singapore? What other shifts need to happen, and what are the challenges?
Join this panel by ZERRIN with global non-profit Fashion Revolution to learn about the role the media industry plays in fuelling consumption and its intersection with topics like representation and ethics. Whether you're a brand or an everyday citizen, you'll leave with a refreshed perspective and actionable takeaways to engage with fashion media in a healthier, more meaningful way.
Speakers include:
Maya Menon, Associate Fashion Features Editor, Vogue Singapore
Maya Menon is a fashion journalist and associate fashion features editor at Vogue Singapore. A graduate from Central Saint Martins College of Art and Design, she was selected for Dior's mentorship programme in Paris, and was a panellist on ShowStudio. Her focus spans from fashion features and cultural commentary, to profiling prominent designers, such as Olivier Rousteing, Vivienne Westwood, and Maria Grazia Chiuri. She is interested in areas of inclusivity and storytelling in fashion.
Aarti Olivia Dubey, Mental Health Therapist & Civil Rights Activist
Aarti is a mental health therapist turned civil rights activist who champions fat acceptance and other marginalised bodies — people who exist beyond gender binaries, people with disabilities and invisible illnesses. They also advocate for the LGBTQ+ community, BIPOC. They created Curves Become Her in 2011 and enjoy exploring plus size fashion.
Mary Victor, Makeup Artist, Coach & founder of The Body Within
Mary victor is a Makeup Artist, Coach & the founder of #Thebodywithin (@thebodywithinofficial) a body neutrality movement in Singapore. She has been doing makeup professionally for 9 years and now coaches others on how to apply makeup as well as guide aspiring Makeup artists on building a successful makeup business. She is also a plus sized model who actively advocates for body neutrality and inclusivity in Singapore.
Rachel Loh, Photographer & Art Director
Rachel is a photographer, art director, food and set stylist. In her photography practice, she explores intimacy and movement in stillness within the confines of an image. In her spare time, she works on her art practice exploring topics of the feminine, ideas of self as well as the psychological aspects of being. She is interested in creating lightness in emotions and topics that can be heavy, reflecting upon the encounters corporeally.
Moderator:
Shi Chen Baey
Baey Shi Chen is a PhD Candidate at the National University of Singapore. Specialising in Cultural Studies in Asia, her research focuses on the development of the Singaporean fashion industry and its intersection with policy and urban futures. An English major by training, Shi Chen worked as a fashion journalist and a teacher before embarking on her studies.