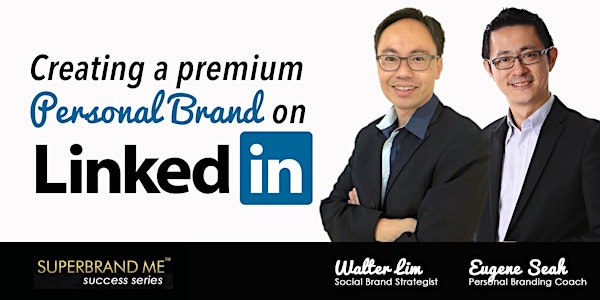 Creating a Premium Personal Brand on LinkedIn
Date and time
Fri, 29 Sep 2017 19:00 - 22:00 +08
Location
Superbrand Me Club, 175, Bencoolen Street #05-05, Burlington Square Offices (2 min from Rochor MRT) Singapore, 189649 Singapore
Description
Is it possible to generate 80% business leads from LinkedIn without making a single cold call?
Walter Lim, founder of content marketing agency Cooler Insights, achieved that, and will share HOW he did it.
With over 400 million members, LinkedIn is the world's largest professional social network. It is the preferred social network for CEOs and top executives, and ranked as the most important social media channel for Business to Business (B2B) services and professional service providers.
Yet many people fail to brand themselves effectively on LinkedIn, and thus miss out many opportunities. (Most clients and potential employers check out your LinkedIn profile before deciding whether to meet you.)
Join this fun, practical and hands-on workshop conducted by Walter Lim and Singapore's leading Personal Branding Coach Eugene Seah, and be amazed at the difference 3 hours make.
Through this workshop, you will:
- Discover your blindspots on LinkedIn, causing you missed opportunities
- Recraft your summary to increase its appeal and impact
- Learn best practises in connecting with others to increase your influence
- Plan a series of articles to establish your credibility and authority through LinkedIn Pulse
- Understand the common traps on LinkedIn to avoid sabotaging your Personal Brand
About Walter Lim:
Walter is the Director and Editor of Cooler Insights, and has over 20 years of senior management experience in marketing communications, public relations, industry development, campaign and events marketing and strategic planning.
A seasoned business blogger, he has been a judge for the Singapore Blog Awards for the past 5 years, and has spoken at multiple conferences and workshops on topics such as branding, public relations, social media marketing, and government-citizen engagement.
As a digital marketing consultant, Walter specialises in brand storytelling, content marketing, social PR, and online campaign management. His clients include major government agencies, MNCs, and SMEs from the retail, FMCG, financial, healthcare, and legal sectors. He also teaches part-time at a local polytechnic.
Learn more about Walter at his website Cooler Insights (coolerinsights.com).
Career Achievements
Formerly the Director of Corporate Communications at Inland Revenue Authority of Singapore (IRAS), Walter managed the revamp of IRAS' website (2nd most visited in Singapore Government), successfully pitched an investigation story which received front page coverage on Sunday Times, and launched the agency's first YouTube video.
At National Heritage Board (NHB), he spearheaded social media marketing by starting Yesterday.sg - Singapore's first heritage and museums blog. He also pioneered social media marketing for NHB, and led in the development of its Facebook page, Twitter account, and YouTube channel.
Walter also organised a Singapore Food Festival event which drew 50,000 visitors over three days at Downtown East, and attracted 60,000 partygoers to a countdown party (the largest outdoor event then) at NTUC Club.
Other Achievements
⇨ Judge for Singapore Blog Awards for 5 years (SPH)
⇨ Vice Chairman of the Association of Singapore Attractions (ASA)
⇨ Board Governor for Army Museum
⇨ Whole Of Government (WOG) team member for social media initiatives
⇨ Member of the Industry Skills and Training Council (WDA)
⇨ Member of Productivity Steering Committee (STB)
⇨ Member of PS21 EXCEL Committee (Public Sector Wide)
⇨ Judge for Businesses for Families and Tourism Awards (MSF)
About Eugene Seah:
Eugene is Singapore's leading Personal Branding coach and has trained at major corporations including Citibank, Sony, Star Cruises, ANZ, DBS, Mizuho, BHP Billiton, Western Digital, Singapore Technologies, ERA and many others.
He has also spoken across the region covering Shanghai, Taipei, Hong Kong, Pattaya, Batam and The Maldives, as well as interviewed on several media including TV, radio, newspapers and popular blogs.
His passion is to help entrepreneurs, sales professionals, managers and anyone who wants to succeed, to design a premium Personal Brand to be significantly more outstanding in their respective fields.
He founded the SUPERBRAND ME Club to connect like-minded professionals and entrepreneurs who are committed to success, and is author of the upcoming definitive Personal Branding book "Superbrand Me - Personal Branding for Career and Business Success."
Read the testimonials below to get a sense of what you will experience during the workshop.
"If I were to give an award for Most Insightful Workshop of the Year, this LinkedIn workshop would sweep it unanimously. Walter Lim and Eugene Seah truly delivered beyond what they had promised in the course description."
- Chia Ming Tjong, healthcare industry
"Last night's LinkedIn workshop was rewarding! I am motivated to want to improve my LinkedIn profile. Eugene Seah is really engaging! And Walter Lim knows his stuff!"
- Justin Ng, accountant
"Eugene really shone and his energy rubbed off on the participants; everyone was contributing and sharing. I find the workshop to be extremely valuable and learnt many insightful tips on personal branding. I am glad I did not pass up the chance to attend!"
- Ahmad Matin, financial advisor
"Learnt about social media branding and how your online profiles can add value (or not) to your professional/social image, as well as strategies on creating a powerful personal branding that resonates with your core personality and values! Truly empowering!"
- Junelle Cher, civil service
"The workshop is really helpful in terms of building not just your personal branding, but corporate branding too. The biggest takeaway would be the different approach in branding yourself in different way and platforms. Those who are keen should give it a try! Awesome!"
- Lin Junhong, entrepreneur
"The workshop is "WOW-fully" useful ,its all about personal branding .I gained new perpective and can't wait to put into practise all thanks to Eugene for the coaching."
- Lee Wei Cheng, aspiring entrepreneur
"Through the workshop, I learnt how to boost my personal brand and increase my influence. I recommend this to anyone who is serious about growing their business and career."
- Bryan Setho, property expert

"I am impressed. The participants were warm and responsive. I feel at home among strangers.
Eugene's unique style is to elicit maximum participation from the attendees.
People learn best through participation.
His workshop was very well structured.
He shared case studies with videos.
He demonstrated how it is done.
He shared 5 steps and not more so that we can remember.
Clarity. Humour. Value. Honesty.
That's what I love about Eugene Seah."
- Sam Choo, founder, Singapore Internet Marketers
About the organiser
Trainium Academy is a boutique success academy specialising in Personal Branding, Inspirational Leadership and Effective Communications. Every programme is designed to help you Create Your Element of Success. Visit www.trainiumacademy.com for details.