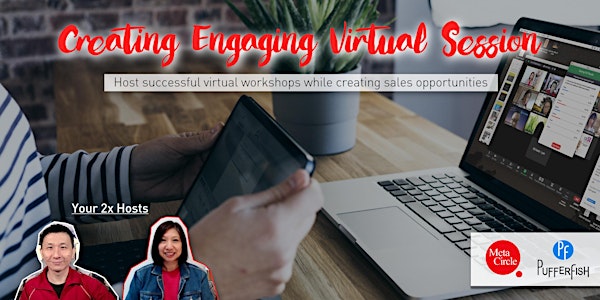 Creating an Engaging Virtual Session (Zoom Hands-on Workshop)
Refund policy
Refunds up to 7 days before event
Eventbrite's fee is nonrefundable.
Hold successful virtual workshops while creating sales opportunities, build customer base, loyalty, using 7 Pillars of Online Presentation!
About this event
*** Ticket includes a 2-hour Bonus Follow-up Workshop (14 Dec, 10am) to help track your progress! ***
Finding it difficult to engage attendees at your virtual session? Do you feel lost in hosting a session where your content gets lost in translation? And the audience gets listless, tuning out.
Be a super engaging virtual host with your audience wanting more.
Think of a time when you attended a class and remembered all the key areas that worked for you and put into action? Did that really happen? Most people wouldn't unless a conscious effort is made.
In this 4-hour dynamic workshop, you get experiential hands-on exercises to ensure the concepts are usable immediately.
What you'll get in Creating an Engaging Virtual Session
Using a 7-step road map to get the fundamentals right;
Getting ideas to engage attendees;
Creating sales opportunities in a friendly manner;
Building confidence in hosting and facilitating interactive sessions;
Viewing live demonstrations to direct you to what can and should be done, even on your own;
Understanding the use of lights, camera and sound to look and sound professional;
Assembling a tool kit for a portable studio whether you work from home or elsewhere as a virtual nomad;
Experiencing a seamless co-hosting team of different personalities at work;
Receiving the recipe for success with templates and checklists;
Learning from 2 industry practitioners with domain expertise on best practices, and
Having guidance with individual attention to close the gaps
Who is this for?
This workshop is made for you if:
It's your desire to create an engaging virtual session that is helpful for your audience;
you want better connection and engagement with your virtual audience;
you want to look and sound professional on Zoom;
you want your audience to truly absorb the learning.
Or all of the above….
Virtual sessions will be around for quite a while and probably is the way of life moving forward.
Pick up these skills when you sign up our final run for 2020 and prepare yourself up for super virtual sessions come 2021.
Now that you know what's in store, the good news is that you also get a 2-hour Bonus Follow-up Workshop (14 Dec, 10am - 12noon) to help track your progress and up for competency level.
💪 Be able to cut short the learning process and be virtual ready within a week is certainly possible.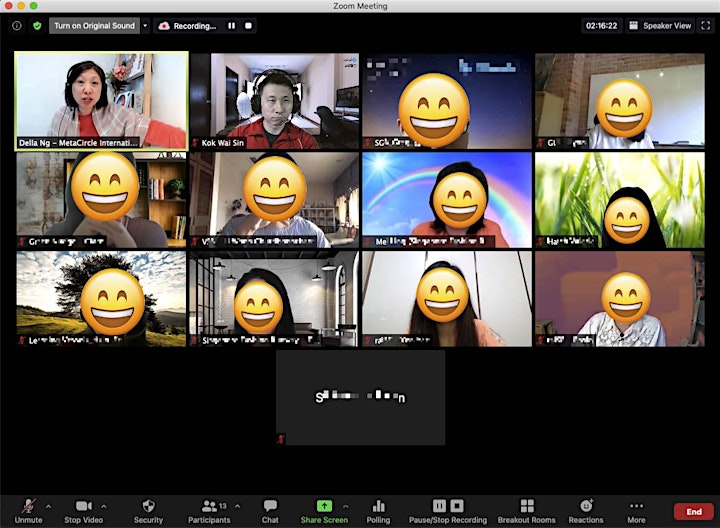 What past attendees say
Four over-subscribed workshops were hosted this year and the attendees have these positive comments:
"Enthusiasm of the trainers to educate us on useful tips. Thanks for being so interactive."
"Dedicated facilitators, adding some fun, information is specific."
"High energy throughout. Thank you for the experience."
"In-depth knowledge of the speakers."
"The diversity of expertise."
"The energy and the camaraderie of the 2 trainers."
"The power of collaboration. Great team! Thank you so much for this session."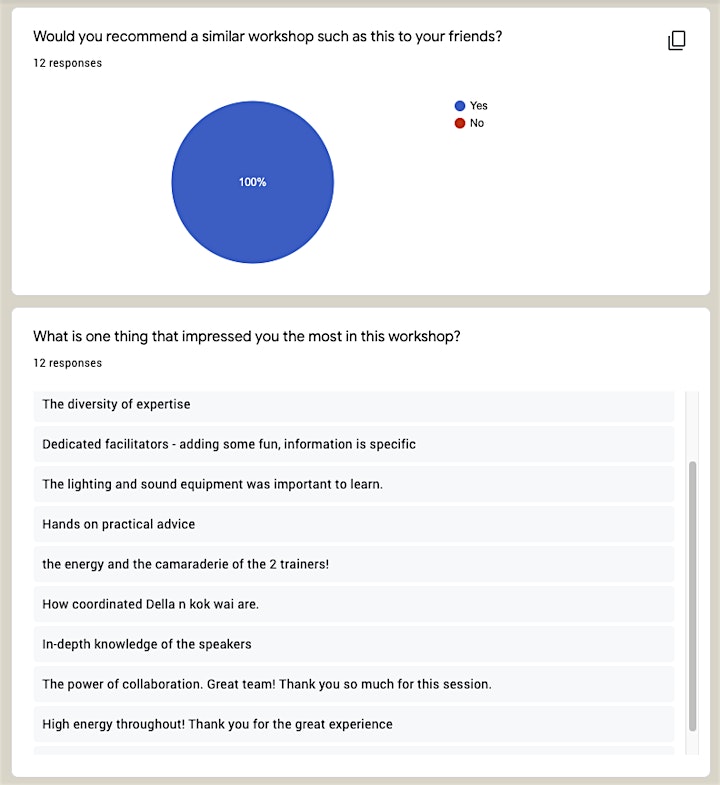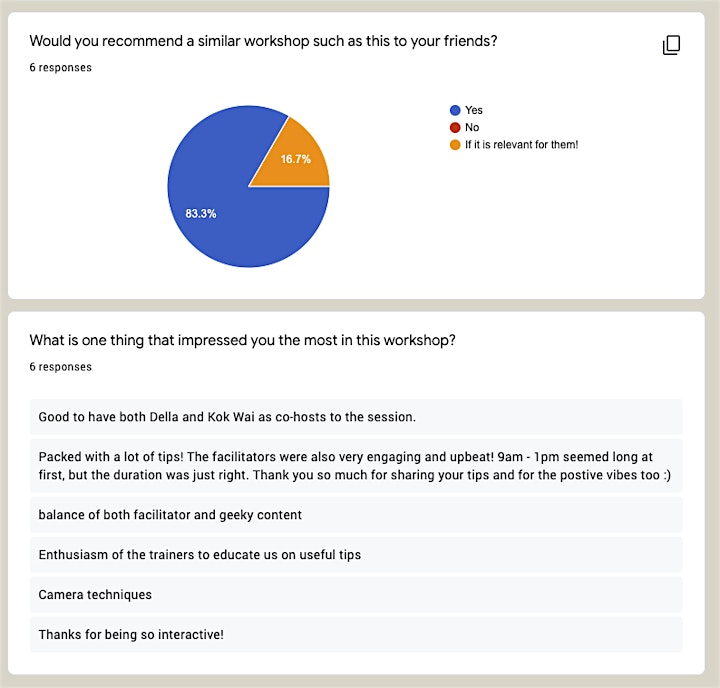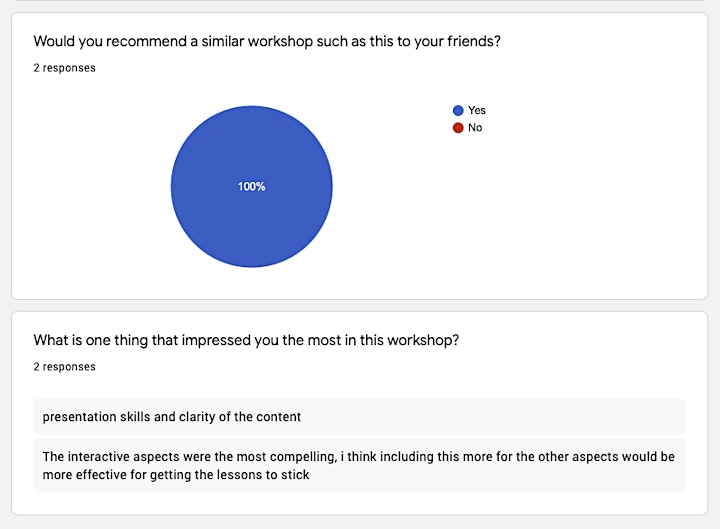 Rethink:
Can you afford to host a virtual session that is boring and mediocre?
One that not as professional as you wish?
Or do you prefer an extra-ordinary one? One that is well curated where the attendees are engaged?
You have a choice, don't you?
GET THE TICKET NOW
About the Workshop host
MetaCircle International and ThePufferfish – Creative Collaborative Abundance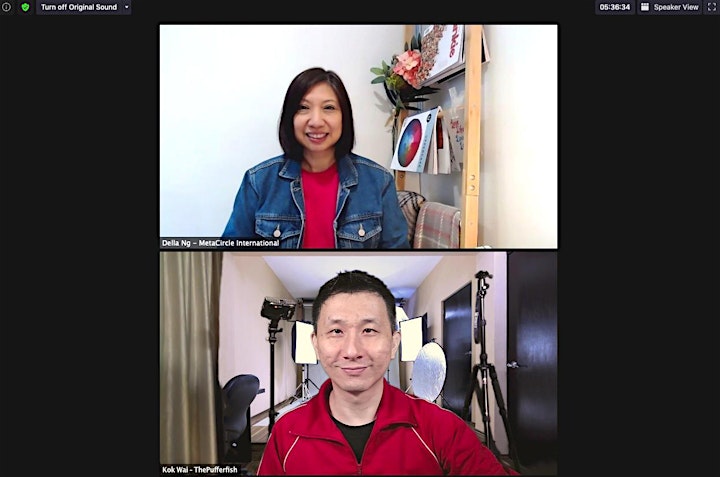 Opportunities to collaborate become real when like-minded parties get together. Random ideas from these brainstorming sessions come to fruition with conceivable action plans. That was exactly what happened to Della Ng from MetaCircle International LLP and Sin Kok Wai from ThePufferfish Pte Ltd. The two creative entrepreneurs combine forces to provide solutions to organisations, solopreneurs and individuals.
This duo has been happily working in a synergistic way with close to 15 joint events since 2018. In a disruptive economy, further accelerated by the Covid-19 pandemic, the team continued to push for new frontiers with new opportunities.
Clients and participants have observed the robust teamwork, demonstrated through the leveraging of strengths and expertise from Della and Kok Wai. This has resulted in delivering programme objectives with astounding outcomes in a nurturing and safe environment for accelerated learning.
Speakers' Profile
[ Della Ng ]
As a creative consultant and curriculum designer, Della aims to inspire and help businesses and individuals reach their fullest potential, to meet commercial and social goals in an experiential, positive and nurturing learning environment.
With more than 20 years of experience and exposure in the corporate world and being an entrepreneur, Della has been privileged to work with diverse groups of people at all levels, managing strategic and tactical roles.
Being an international facilitator and speaker, she had opportunities to host and speak at various events in countries like Australia, China, Kyrgyzstan, Tajikistan, Singapore, etc., giving her insights and expertise to manage and engage a captive audience.
Being a presenter and trainer on the virtual platform comes natural for Della with near perfect scores given by her attendees for making the session so interactive with great applicable learnings.
[ Sin Kok Wai ]
Kok Wai is a published photographer and content producer at ThePufferfish Pte Ltd, and an MOE-registered freelance media trainer.
His experience since 2000:
Phase 1: Graphics, web and interactive design (why a business should look good online)
Phase 2: Digital photography and videography (why every image is crucial) + media trainer
Phase 3: Content Creation/Marketing (what kind of story to create and where to show it)
As he interacts with CEOs, bosses, small business owners, marketing executives, and even celebrities, he gets a better and deeper understanding of the purposes and reasons for the creation of imagery and different content. Such experiences help him to be able to advise his clients in the image and content creation process.
Having the opportunities to work with various industries including retail, beauty, F&B, industrial, architecture, luxury goods, IT, print media allows him to have a wide overview how different audiences perceive products and services, be it online or in print. It is such a unique combination of opportunities that allows Kok Wai to be able to better explain and share photography knowledge and application to his students and workshop attendees.
Shot for:
Nike, Canon, Din Tai Fung, Orchid Country Club, HP, Sony, BP De Silva, World of Watches, Singapore Post, Pan United Concrete, Pere Ocean
Tickets On Sales Now
** Grab a friend with 2-to-Go ticket and together save up to $50 off per pax regular price. **
Workshop Investment: SGD$149 -199