Sales Have Ended
Ticket sales have ended
Thank you for your purchase, we look forward to seeing you at the seminar.
Sales Have Ended
Ticket sales have ended
Thank you for your purchase, we look forward to seeing you at the seminar.
Description
Creative Problem Solving and Decision Making Skills for Every Situation
25-26 Sep 2017, KL, Malaysia.
This course will help improve your decision making capabilities through critical thinkingm structured reasoning, and creative problem analysis.
'Creativity can solve almost any problem' George Lois.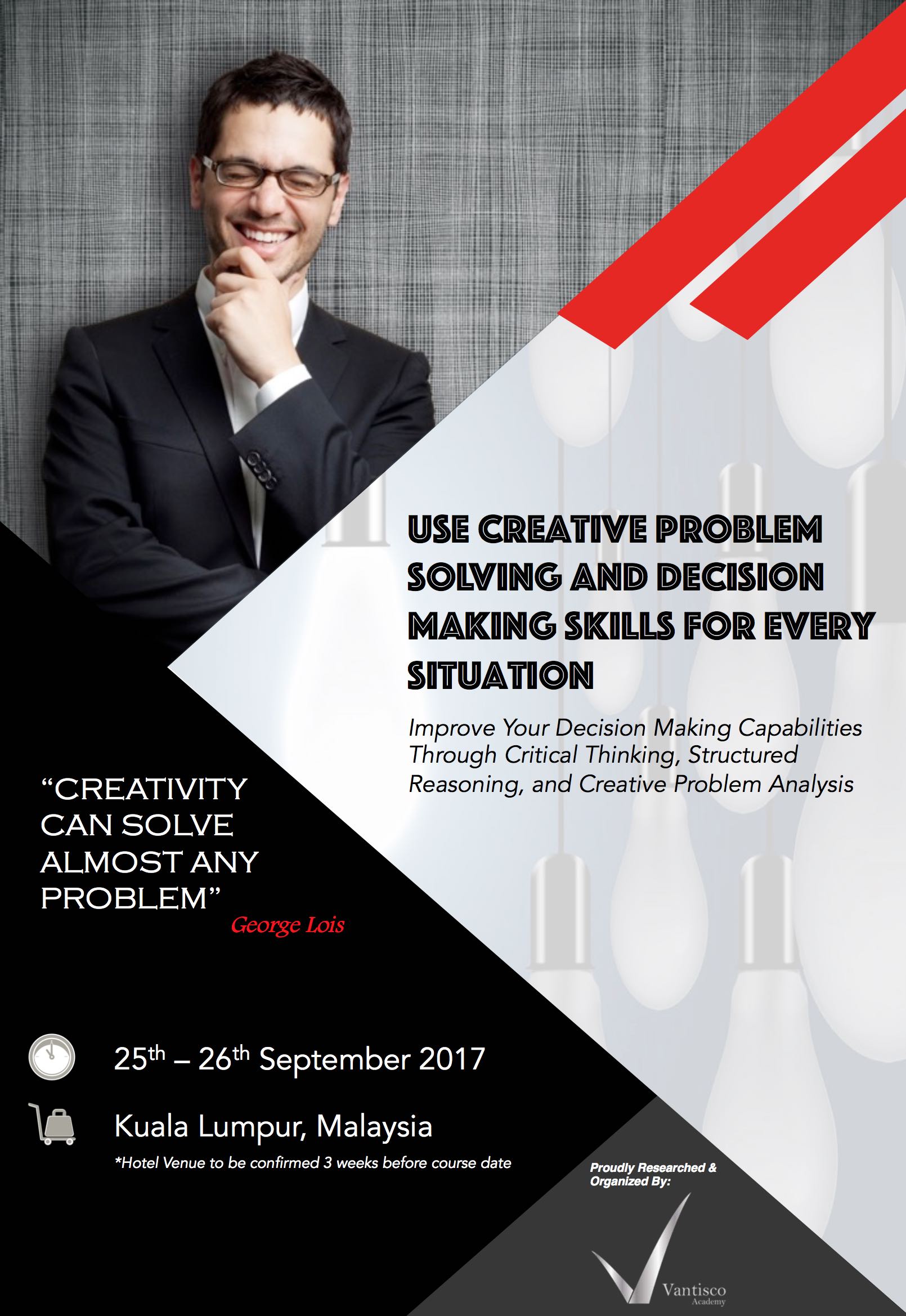 Course Overview
This course will help you understand the role of creativity and innovation in your own work and in other disciplines. It will challenge you to move outside of your existing comfort zone and to recognize the value of that exploration. This course will help you understand the importance of diverse ideas, and to convey that understanding to others.
Today, there are many powerful group-based problem solving and brainstorming techniques that can be used to increase creativity and productivity. The first part of this course is on problem solving and creativity which introduces delegates to effective and efficient problem solving techniques that can be used in groups.
The course is structured around various problem solving techniques and the exercises to practice those methods. The training content aims to increase the awareness of delegates about best practices and guidelines that will increase team productivity.
Decision making is a skill and to become better at it, you must simply practice over and over again. When making decisions, the biggest problem people experience is getting stuck and not knowing what to do. This usually happens either due to lack of research and data or because of looking only at a narrow part of a search space. Both of these issues can be addressed using a set of decision making tools. Unfortunately, most people are not aware of these systematic tools and tend to rely on intuition instead to make decisions. This approach often leads to sub-optimal results.
The second part of the course aims to raise delegates' awareness regarding decision making process, techniques and tools and teaches them how to use each tool in different situations. Since the delegates can practice the technique during the course under the trainer's observation, they have a better chance of learning the techniques correctly and use them efficiently and immediately after the course.
The course also focuses on decision making & problem solving principles discovered in a number of critical fields such as game theory and economics. A knowledge of the logic of decision making helps to deepen the understanding of decision making as a whole. This further helps the delegates to understand what each can tool can do for them and also understand the limitations of each technique.
WHAT YOU WILL LEARN WHEN YOU ATTEND THIS TRAINING WITH VANTISCO ACADEMY
- Avoid attitudes that hinder problem solving and adopt those that increase your chances of success.
- Explore and define the problem systematically by viewing it from different angles and search for root causes.
-Methodically generate ideas and use visual techniques to organise them into meaningful logical categories.
- Use a number of established brainstorming techniques to search for solutions by maximising idea generation, participation and creativity.
- Make qualitative decisions by evaluating various aspects of potential solutions using a systematic method.
-Plan to implement your solution by scheduling, analysing critical parts of the plan, managing resources and carrying out a requirements analysis.
-Use problem solving techniques to address issues as a group.
- Use good decision making processes to get the best out of your decisions.
- Choose the best available option based on a number of criteria using a trade-off analysis.
- Use a series of systematic comparisons to identify the most ideal decision.
- Make a decision using quantifiable pros and cons to evaluate the impact of your decision.
- Systematically analyse the implications of taking an action so you can decide whether to go ahead with it or not.
- Make decisions based on problem analysis using a common currency and calculate the net benefits.
- Graph your decisions and the corresponding outcomes visually and calculate the best course of action.
- Take advantage of many age old principles, guidelines and heuristics to make the wisest decisions.
- Make optimal decisions in groups by using everyone's inputs and prevent individuals from dominating the decision making process.
-Use a structured method to collect and process opinions of a panel of experts while avoiding common group discussion issues.
- Use a simple technique to encourage group participation and increase the likelihood of free expression of ideas.
WHO SHOULD ATTEND
Department Managers, Supervisors, Team Leaders

Directors and Business Unit Heads

If your job requires you to solve problems

If your job requires you to make decisions

If you feel that you are currently confused with problem solving and decision making

If you wish to be ultra efficient and effective in problem solving and decision making
WHAT YOU WILL RECEIVE
- Full training access throughout the course duration
- Certificate of Achievement as a proof of your commitment towards continuous learning
- Customised Training Workbook full of course content, worksheets, exercises, handouts, templates, checklists, that you can easily refer back to in the future
- Your Questions Answered in the course. The earlier you register, the earlier you get access to the trainer to send him your most pressing issues on the course topic for him to include in the course content. So get to the last page now and send us your registration form!
- World-Class training. Just refer to the testimonials section on this brochure to confirm this
- Practical Hands-On Sessions, be prepared to move around and get into group discussions/ exercises, role-plays, team reflections, and much more!
- Buffet Lunch at training venue, so you won't waste time finding a place to eat...leaving you more time for networking
- Morning/Afternoon Breaks with snacks and coffee/tea, to keep you energized throughout the day
- A Boatload of New Knowledge and Information! Corporate room rates at hotel training venue for
overseas participants
- One 2-hour session online group coaching after course ends
VANTISCO ACADEMY'S QUALITY

The course has limited seats to ensure maximum learning and experience for all delegates.
Certificate of Attendance
You will receive a Certificate of Attendance bearing the signatures of the Trainer upon successful completion of the course. This certificate is proof of your continuing professional development.
Interactive Training
You will be attending training designed to share both the latest knowledge and practical experience through interactive sessions. This will provide you with a deeper and more long-term understanding of your current issues.
High Quality Course Materials
Printed course manual will provide you with working materials throughout the course and will be an invaluable source of reference for you and your colleagues afterward.