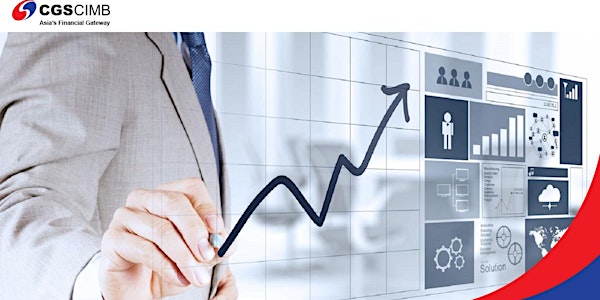 Crisis Stock Investing Strategies with Global Market Outlook
Dr Tee Webinar: Crisis Stock Investing Strategies with Global Market Outlook
About this event
There are 2 main investment strategies: investing for dividends and investing for capital gains, which we could achieve through global blue chip stocks & REITs. A safer time to buy a blue chip stock & REIT is when most people are afraid the sky may fall down while the business is still operating normally with consistent performance.
In this 4hr investment webinar, Dr Tee will teach the powerful methods step by step, how to select strong global blue chip stocks & REITs, then wait patiently for different levels of crisis to buy at low price, holding for dividend income, then potentially selling at high price for capital gains. 5 Value Investing & Trading Strategies, LOFTP (Level Analysis, Optimism Analysis, Fundamental Analysis, Technical Analysis, Personal Analysis), will be shared to buy low sell high and integrate all investment markets, examples will be given for stocks, properties, commodities, forex and bonds. It is useful for stock traders who aim to buy low sell high in short term and also stock investors who expect potentially higher yield passive income and capital growth in long term.
Learning Points:
· Global Stock Market Outlook with potential opportunities in Singapore, Malaysia, US, China & Hong Kong stock markets.
· How to generate a more consistent passive income and potential capital gains with global blue chip stocks & REITs.
Time for golden opportunity to buy high dividend blue chip stocks & REITs during global financial crisis, then selling high during bull market.
· What to buy (stock screening), When to buy/sell (buy low sell high), How much to buy/sell (risk management) for global blue chip stocks & REITs.
· Fundamental Analysis (FA) + Technical Analysis (TA) + Personal Analysis (PA), integrated with Optimism over Levels 1-4 with unique LOFTP Strategies.
· How to take actions (Buy, Hold, Sell, Wait, Short), matching with own personality.
· Master the investment clocks to Buy Low Sell High for different asset classes (stocks, properties, commodities, forex, etc).
2 Bonuses for Attendees:
1) Free investment eBooks x2 by Dr Tee
2) Free global stock screener following Dr Tee strategies
************************************************
Join Zoom Meeting
Meeting ID: 914 1943 5205
Passcode: 123456
************************************************
Speaker: Dr Tee Tong Yan
Dr Tee holds a PhD specialized in computational simulation. He possesses 20 years of investing experience with in-depth knowledge in stocks and various major investment markets. He was a corporate Vice President, now the founder of a consulting firm. He has achieved financial freedom, spending most of his free time in life mission to educate the public towards the right path of investing. He is the founder of Ein55 investing blog www.ein55.com with applications of Ein55 Styles of investing, sharing his experience extensively with over 800 investment articles, conducting over 200 investing seminars using FA, TA and PA methods with unique Ein55 Optimism Strategy. He is a well sought after speaker in major trading firms and various investing seminars.
************************************************
PLEASE CAREFULLY READ THE PROVISIONS BELOW BEFORE PROVIDING YOUR PERSONAL DATA. BY PROVIDING YOUR PERSONAL DATA BELOW, YOU ACKNOWLEDGE THAT YOU HAVE READ AND FULLY UNDERSTAND THE CONTENTS OF THE PROVISIONS AND YOU HEREBY GIVE YOUR CONSENT AS SET OUT BELOW. 
REGISTRATION NAME DOES NOT NEED TO BE AS PER NRIC 
By providing your personal data, you consent to CGS-CIMB Securities collecting, using, disclosing and/or processing your personal data for the purpose(s) of: 
(a) Processing your registration/sign-in to visit and/or access CGS-CIMB Securities' premises; 
(b) Record keeping, visitor log monitoring, audit, data storage or backup (including for disaster recovery); 
(c) Security and public safety; 
(d) Contacting you in the event of emergency and/or investigation (including contact tracing for medical reason or otherwise); and(e) To contact you for future events/seminars and product promotions. 
 If you have any questions relating to CGS-CIMB Securities' collection, use and disclosure of your personal data, you may contact dpo_securities@cgs-cimb.com.