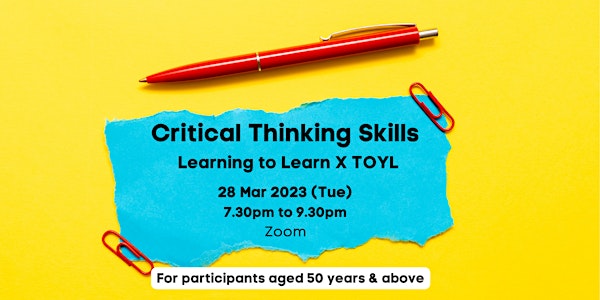 Critical Thinking Skills | Learning to Learn X TOYL
Learn how to effectively distil and verify information.
By GoLibrary | National Library Board, Singapore
Date and time
Tuesday, March 28 · 4:30 - 6:30am PDT
About this event
About the programme
In this age where information is easily accessible, it is important that we know how to discern fact from fiction. How can we think critically and avoid having our perspectives tainted with preconceived biases? Join us as we share a range of strategies and tools, along with interactive hands-on activities, to sharpen your critical thinking skills.
Andrew Parker is the founder and principal consultant of Wasabi Consulting. Andrew has extensive experience, having held senior and executive roles in marketing, sales, strategy, and innovation across Australia, the USA, Europe, and Asia. He is also a part-time university lecturer, executive and leadership coach, and interpersonal skills trainer.
About Time of Your Life
Organised by the National Library Board, the Time of Your Life (TOYL) features informative talks, creative workshops, learning communities and resources for those aged 50 and above. Covering a wide range of topics such as Digital, Careers, Sustainability, Arts & Wellness, start your learning journey with us today. Visit https://go.gov.sg/toyl for the full programme listing and check out our dedicated publication at https://go.gov.sg/50plusmag.
Online Programme/Event Administrative Information
•    This programme is conducted entirely online. You may access Zoom via the app or using a web browser.
•    Please note that photos and/or videos of this programme and its participants may be taken. By registering for this programme, you agree that NLB may take photographs and/or videos of you (or your child as applicable) and use the images and/or videos including to archive, exhibit and publish them for publicity or any other NLB purposes.
•    Please ensure that you enter a valid email address as you will receive an email with the link to the online. programme/event 
•    The link of the programme should not be shared with others.
•    Do ensure you have a strong internet connection. Using your mobile data is not recommended.
•    The National Library Board, Singapore (NLB) reserves the right in its absolute discretion to disqualify or refuse admission to any registrant without any reason and notice.
About the organizer
The National Library Board (NLB) manages a network of 28 libraries, the National Library and the National Archives of Singapore. NLB promotes reading, learning and information literacy by providing a trusted, accessible and globally-connected library and information service through the National Library and a comprehensive network of libraries.