About this Event
On September 21st, join us at Amari Watergate Bangkok together with partners from btc.com, crypto-exchanges and our official host, Hashcube, for an event to dive into the current landscape and inside knowledge of profitable bitcoin investments and top solutions to mining your own bitcoin.
What It's About:
Hashcube's exclusive one-day forum features experts from mining pools, crypto-exchanges and crypto miners who will teach you how to get started with crypto investment in the current growing landscape of cryptocurrencies, one of the most profitable investments out there today!
We'll also give you the scoop into getting started with mining your own bitcoin for high ROI at low costs, making it one of the best ways to invest with high growth margins.
Benefits for joining us:
Not only will you walk away with first hand knowledge of crypto investment and bitcoin mining from our keynote speakers. you will have the opportunity to speak to experts after the presentation to ask anything regarding your interest in this industry. We'll also have booths set up to give you the opportunity to see our machines and application in action, or get involved in crypto-mining immediately as bitcoin is forecasted to see double digit growth over the next year or two.
Join us as we gather top crypto enthusiasts and like-minded audiences who are looking for a safe alternative way to growing their investment portfolios.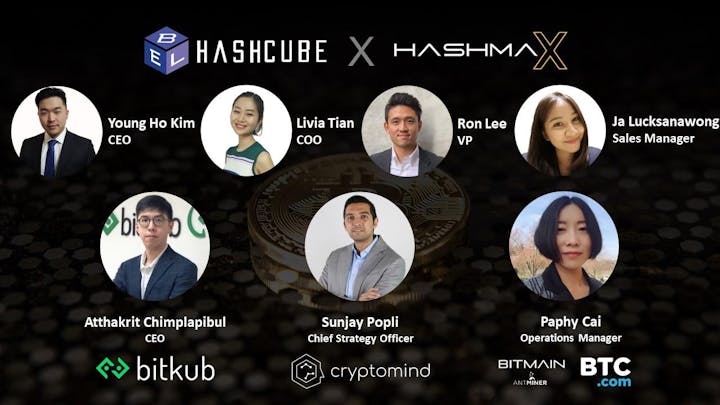 Agenda:
1pm - Registration Opens
2pm - Opening Keynote By Hashcube + "Crypto Currency Landscape Today" by Crytomind
250pm - Presentation: "Why Mine Bitcoin? Most profitable way to Mine?" By Hashmax
330pm - Presentation: "What and How to use Mining Pool" by BTC.com + "Crypto Exchange" by Bitkub
**Booths of the official Partners will also be opened throughout the event for you to learn and ask questions
**Drinks and Light Snack will be served throughout the entire event