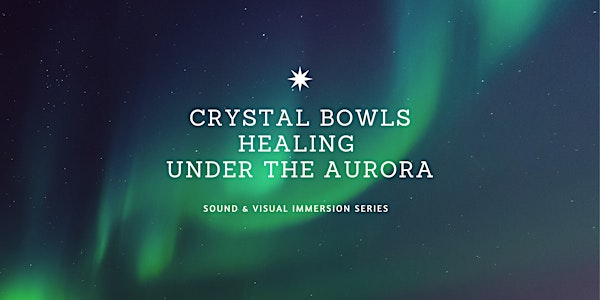 CRYSTAL BOWLS HEALING UNDER THE AURORA: Sound & Visual Immersion Series
An awe-inspiring quest of sublime soundscape beneath the mesmerising Aurora Borealis sky . Deeply Relax Where No One Has Relaxed Before!
When and where
Location
Mindful Space 10 Winstedt Road #Block A, 02-02 Singapore, 227977 Singapore
About this event
CRYSTAL BOWLS HEALING UNDER THE AURORA: Sound & Visual Immersion Series
Date: 16 October 2022 (Sunday)
Time: 5:00pm - 6:00pm
Venue: Mindful Space
Energy Exchange: $50 - $53.45 (Eventbrite fees apply)
Prepare for dreams to come true! This will be a trip to Taiga - a boreal forest or snow forest consisting mostly of pines, spruces, and larches. You will enjoy the ultimate experience through the breathtaking vivid sights of Aurora Borealis. An aurora is a natural light display that shimmers in the sky. Colorful blue, red, yellow, green, and orange lights shift, dance gently and change shape like softly blowing curtains. A phenomenon that even science still has not fully comprehend.
As you immerse in these beautiful visuals under the skies, you are bathed in therapeutic sonic vibrations from the Alchemy Crystal Bowls simultaneously in the comfort of an indoor setting.
You are invited to be among the first in Singapore to embark on this perfect union of exclusive, unique, transformative and utterly immersive Sight and Sound Healing journey. You will be able to submerge yourself in visual images of the mesmerising Aurora borealis, the geometric fabric of the natural world, together with an immersive soundscape to explore the harmonics forms of our world.
Combined with an acoustic palette filled with celestial, mesmerizing, intriguing, ethereal, cosmic, deep, vitality and rich frequencies, they work on a physical and energetic level, tantalizing your senses as your being is coaxed into balance and relaxation, dropping into a deeper state of tranquility, stillness and peace. You will be cleansed of stagnant and negative emotions that no longer serves you from the past present future, and recharged with pure loving and exquisite harmonies from the Universe.
Marvel at how visuals of natural wonders of the Universe and sound has the power to heal, align and uplift this world. It is a great chance to shift your perspective and lift your spirits and it will be like nothing you have ever tried before! Join us and you will be investing in your happiness. It will be worth it.
Benefits of Sound Healing:
• Deeply relaxing
• Reduced tension, stress, anxiety & depression
• Boosts your health
• Supports mental, emotional & spiritual well-being
• Helps clears energetic blockages
• Improves quality of sleep
• Deeper states of consciousness
• A chance to recharge
• Improved sense of Self-awareness
• Lower blood pressure
• Improves mental clarity and brain functioning
• And many more…
"If you want to find the secrets of the universe, think in terms of energy, frequency and vibration" -Nikola Tesla
All are welcome! Come with an open mind and heart and no experience in mediation is required.
Space is limited, book early to avoid disappointment.
You can DM me directly to make a booking. (No Eventbrite fee and payment can be made through PayNow)
Come in comfortable attire for relaxing and enjoyable lying down experience.
Mat, pillow and / or bolster will be provided and you are highly recommended to bring your own yoga towel, eye pillow, blanket and / or jacket for hygiene purposes and to thoroughly appreciate the session. You are also welcome to bring your own water bottle or bottled water to hydrate yourself.
The space will be sanitised before and after the event and sanitising spray and hand gel will be available. Please do not attend the class if you are feeling unwell.
Do read through and observe the venue guidelines. Arrive at least 15 mins earlier prior to the session and latecomers will be rejected from attending the session once it starts.
This session will be held at Mindful Space.
Address: 10 Winstedt Rd, Block A 02-02, Singapore, 227977 (Beside ACS Junior or Newton MRT).
Direction to Mindful Space will be provided in the order confirmation email.
Minimum 5 to run.
By Sound Therapist Wendy Lum
(FACEBOOK): www.facebook.com/wenyogaheal
(INSTAGRAM): www.instagram.com/wenyogaheal
IMPORTANT NOTE:
There may also be constant changes to the Covid-19 safe management regulations depending on Government announcement and the Covid -19 situation then. We will adapt and change the safe management regulations accordingly and we seek your kind cooperation to adhere to them.
If you have any questions, you are welcome to email to hellowenyogaheal@gmail.com or direct message through Instagram or Facebook.