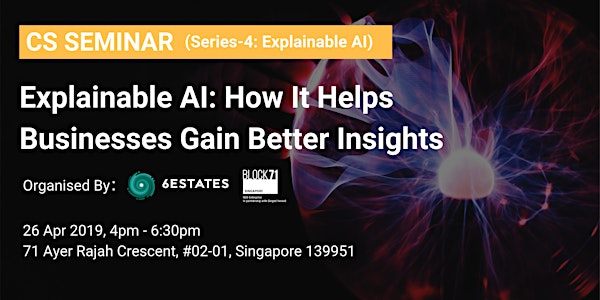 CS SEMINAR 4: Explainable AI & How It Helps Businesses Gain Better Insights
When and where
Location
BLOCK71 Singapore 71 Ayer Rajah Crescent #02-01 Singapore, 139951 Singapore
Description
A key impediment of using AI-based systems is that they often lack transparency. The black-box nature of these systems allows powerful predictions, but it cannot be directly explained. This issue has triggered a new debate on Explainable AI (XAI). XAI proposes to make a shift towards transparency. In this way, it helps to improve the effectiveness, efficiency, persuasiveness, and user satisfaction of recommendation systems in business application.
This seminar caters to non-technical audience who is keen to learn more about Explainable AI and its uses on insights generation for effective decision-making.
SPEAKERS & TOPICS

1. Explainable AI
Prof Chua Tat Seng, National University of Singapore
Existing AI models have limitations on trade-offs between interpretability and accuracy. Find out the current state-of-the arts approaches in XAI. Understand how prior domain knowledge, information theoretic principles, and adversarial algorithms are used to achieve interpretability.

2. Towards Explainable & Stable Prediction
Prof Cui Peng, Tsinghua University
Prediction is a common task among business analysts when it comes to sales or marketing ROI simulation. Prof Cui Peng will describe the problem that seen data is much different with unseen data from correlation versus causality perspective and show some recent academic outcome.

3. Discovering Consumer Trends Using XAI
Rachel Zhou, Consumer Insights Director, 6Estates
Many companies have started using AI in performing prediction and recommendation related tasks. In this talk, uncover how 6Estates have used XAI to discover early signals of trends and how the insights can help FMCG brand owners.
ABOUT 6ESTATES & BLOCK71 SINGAPORE
6Estates is an AI-driven intelligence company. We specialise in Natural Language Processing, Deep Learning, and Knowledge Graph to deliver real-time, actionable insights to businesses, with a focus on Market Intelligence and Finance Intelligence.
BLOCK71 Singapore is a partnership between NUS Enterprise and Singtel Innov8. Located within JTC Launchpad@One-North, it is the heart of the BLOCK71 network, growing and bringing together the largest start-up community in Singapore. An initiative by NUS Enterprise in collaboration with corporates and government agencies, BLOCK71 is an ecosystem builder and global connector. It catalyses and aggregates start-up communities, providing opportunities for growth and access to new markets.
CS Seminar is an initiative by 6Estates to facilitate the sharing of technical knowledge by academics and industry experts, to promote AI & Computer Science community in Singapore. BLOCK71 is a joint partner for this event.
For any enquiries, kindly contact: info@6estates.com / singapore@block71.co