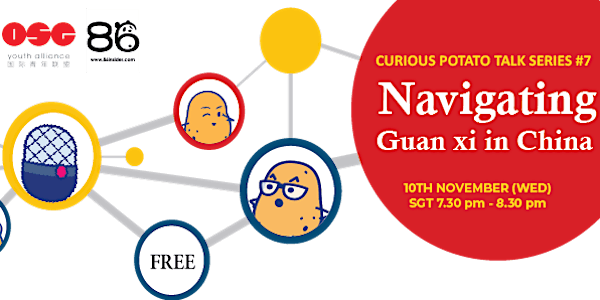 Curious Potato Talk Series #7 - Navigating Guan xi in China
Why is it important to understand the meaning of "guan xi" in China ?
About this event
Cultural intelligence has become a fundamental for venturing into a foreign country. In China, grasping a good understanding of "guan xi" is never less important. "Where should you sit in a business dinner setting? When is a good time to exchange WeChat contact? Learn about these tips as we join two fictional characters (Xiao Ming and Da Ming) on their business trip to Shanghai."
Details
Date : 10th November 2021
Time : 7.30 PM - 8.30 PM (SGT Time)
Venue : Virtual, Online (Zoom Link will be sent 2 days before)
Resources
https://86insider.com/the-mini-guide-to-effective-small-talk/
https://86insider.com/all-about-gifting/
https://86insider.com/the-art-of-keeping-in-touch-via-wechat-in-china/
Register while seats last. Only limited to the first 30 participants !
For more information, visit https://www.osg.sg/upcoming-events or email osg@osg.sg for more opportunities.