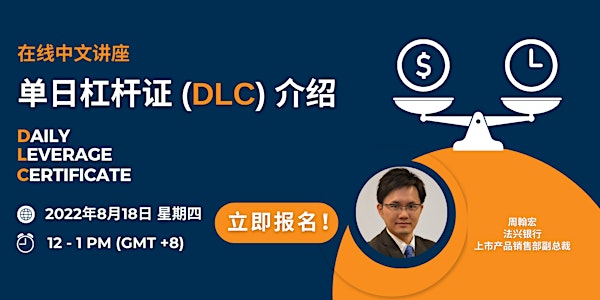 单日杠杆证书(Daily Leverage Certificate - DLC)介绍
单日杠杆证书(Daily Leverage Certificate - DLC)是一种由银行发行并在证券市场交易的结构性金融工具,为投资者提供更多选择与投资机会。您是否想更进一步了解单日杠杆证书呢?赶紧报名参加我们的线上中文讲座吧!
About this event
在本次中文讲座中,我们将与您分享:
单日杠杆证基本特点
单日杠杆证回报的计算公式
利用单日杠杆证部署的好处
如何利用单日杠杆证部署?
复利效应如何影响你的单日杠杆证投资
我们8月18日,12pm见!名额有限,立即报名吧!
演讲人:
周翰宏
上市产品销售部副总裁 @法兴银行
周翰宏现职法兴证券上市产品销售部董事,负责香港及新加坡上市产品的市场销售及推广工作。周先生经常担任股票衍生工具教育讲座的讲者,并在电视及电台担任嘉宾主持及分析每日的认股证及牛熊证买卖策略。 周先生毕业于香港中文大学,主修财务工程及工商管理,并持有上海交通大学中国工商管理硕士学位。周先生从事金融工作逾15年,加盟法兴证券前,曾于华富嘉洛证券任职证券分析工作。周先生拥有金融风险管理师(FRM)、澳洲管理会计师公会(ICMA)金融服务部副总裁、香港会计师公会(HKICPA)会员、澳洲公共会计师协会会员(MIPA)及英国财务会计师公会(IFA)会员等资格。 另外,周先生热心于培育及帮助年青一代发展他们的事业。周先生活跃于香港中文大学校友事务处举办的活动,同时,他亦协助教育界的热心人士一起组织儿童及青少年理财教育工作。
————————————————————————————————————————
Consent to Use of Your Personal Data
1)I authorise, agree and consent to allow Phillip Securities Pte. Ltd. ("PSPL"), Phillip Nova Pte. Ltd. ("PNPL"), its employees, agents and third-party service providers to:
a)administer my participation in the event
b)collect, use and/or disclose my photograph, voice, likeness and image in any broadcasts of this event for marketing, advertising, and/or administrative purposes
c)send me marketing, advertising and promotional information, materials and/or documents relating to the investment products and/or services, details of our events or those of third parties that we think may interest you through the following modes of communication:
i.postal mail and/or electronic transmission to my email address; and
ii.to my telephone contact number(s) by way of voice, text (SMS/MMS), fax, VOIP based smart phone application such as WhatsApp, Viber, etc
2)I understand that I am entitled to withdraw my consent for the collection, use and disclosure of my Personal Data at any point in time by notifying the Data Protection Officer ("DPO") of PhillipCapital at customercare@phillip.com.sg in writing.