Data is key in today's digital world. Join us as we share how we help companies stay ahead of their competitors with data.
About this event
During this trying time where business travel is not an option, digitalization has emerged as a pivotal factor for global trade in helping businesses remain competitive and stay relevant.
Data is money. That is why it is crucial to have data at your fingertips to analyse market opportunities and the competition, which can help you better tweak your business strategies to drive leads and sales growth.
Digitalization has made information such as import/export and customs data more easily accessible and generate market insights, especially with tools such as CIC's Data Pro and Corp Info KYC report.
Join us for this webinar and discover how we can help you stay ahead of your competitors.
Guest Speaker: Richard Li, Deputy Director of Sales, CIC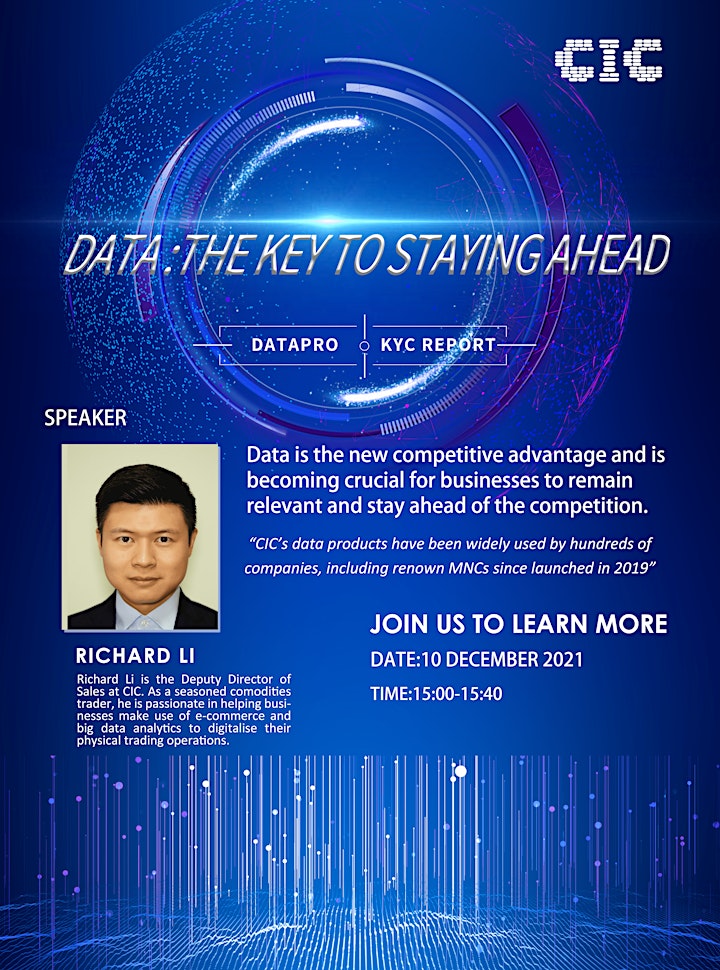 COMMODITIES INTELLIGENCE CENTRE (CIC)
CIC is a global physical commodities trading platform that was officially launched in Singapore on 12 Oct 2018, and is a JV between China's leading digital trade platform, Zall Smart Commerce (2098.HK), Global eTrade Services (GeTS, a subsidiary of CrimsonLogic, a leading provider of eGovernment products and services), and Singapore Exchange Limited (SGX). Our goal is to enable trade easy by simplifying the business decision making process with our business data, technology and services.