LIVE WEBINAR: Lord Puttnam will focus on the work of two of his great friends and collaborators – Alan Parker and Ennio Morricone.
About this event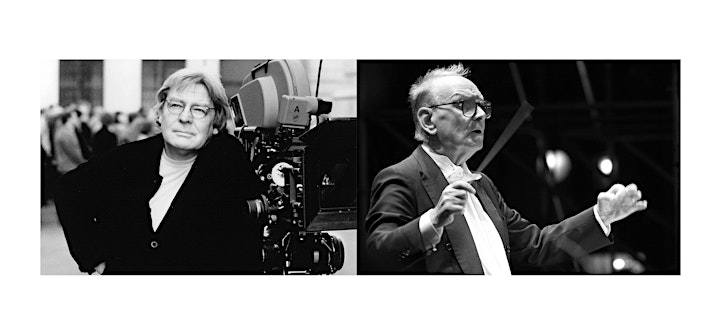 TWO GREAT MEN - TWO GREAT EXAMPLES
A STORY LAB SEMINAR SERIES
In this webinar, Lord Puttnam will discuss the work of two of his great friends and collaborators – director Alan Parker and composer Ennio Morricone. Both men had a huge influence on Lord Puttnam's life, career and body of work, upon which he will reflect. Morricone is widely considered to be one of the greatest film composers of all time, and Parker's film credits including award-winning musicals such as Bugsy Malone, Fame, The Wall, The Commitments and Evita.
This webinar looks back on how Morricone and Parker got their start in the industry and what we can learn from their respective pathways to success. It will also highlight the importance of music and how it contributes to the success of a film or TV show. More broadly, the webinar will explore how a thriving alliance can add to the success of a nation's cultural output.
EVENT DETAILS
Date:  Thursday, 17 September 2020
Time:  8:00pm to 9:30pm SGT
Admission: Free (*Link to the webinar will be shared with registered guests only)
Enquiries: ProducersLab@lasalle.edu.sg
ABOUT THE SPEAKER
Lord David Puttnam
Programme Mentor and Guest Lecturer, David Puttnam's ProducersLab
Lord David Puttnam is Chair of Atticus Education, an online company founded in 2012 that delivers audio-visual seminars to students worldwide. As a member of the House of Lords he pursues an active role in areas including digital skills, education and environment. In 2019, he was appointed Chair of a House Of Lords Select Committee on Democracy and Digital Technologies. The Committee published its report, Digital Technology and the Resurrection of Trust, in June 2020. He spent thirty years as an independent producer of award-winning films including The Mission, The Killing Fields, Chariots of Fire, Midnight Express and Local Hero winning over fifty Oscars, Golden Globes, Emmys, BAFTAs and the Palme D'Or.
ABOUT THE PROGRAMME
David Puttnam's ProducersLab is a programme under the Story Lab initiative by the Infocomm Media Development Authority (IMDA). Organised by LASALLE College of the Arts (LASALLE), this programme provides participants with the knowledge and know-how of how to run a series production as a showrunner and executive producer.
EVENT ORGANISERS
Asia's leading tertiary institution in contemporary arts and design education and practice.
LASALLE College of the Arts offers 30 diploma, undergraduate and postgraduate programmes in fine arts, design communication, interior design, product design, film, animation, fashion, dance, music, theatre, arts management, arts pedagogy and practice, art therapy, Asian art histories and creative writing.
LASALLE provides a nurturing, interdisciplinary learning environment to inspire the next generation of forward-looking, globally engaged artists, designers and leaders of creative industries.
Its faculty is led by a community of award-winning artists, designers, educators and researchers, and their practice-led research sets LASALLE apart as an international centre of excellence.
LASALLE is a non-profit private educational institution founded in 1984 by the late De La Salle Brother Joseph McNally, a visionary artist and educator.
The Info-communications Media Development Authority (IMDA) will develop a vibrant, world-class infocomm media sector that drives the economy, connects people, bonds communities and powers Singapore's Smart Nation vision. IMDA does this by developing talent, strengthening business capabilities, and enhancing Singapore's ICT and media infrastructure. IMDA also regulates the telecommunications and media sectors to safeguard consumer interests while fostering a pro-business environment. IMDA also enhances Singapore's data protection regime through the Personal Data Protection Commission. For more news and information, visit www.imda.gov.sg or follow IMDA on Facebook IMDAsg and Twitter @IMDAsg.