Sales Have Ended
Registrations are closed
Online registration has ended.
Sales Have Ended
Registrations are closed
Online registration has ended.
Description
**Registration is full. Thank you for your support! Due to overwhelming response, we will not be accepting walk-ins at the event venue. You can also catch the livestream of the Awards Ceremony on Facebook Live at the DBS-NUS Social Venture Challenge Asia Facebook page**
Join us as we celebrate the 2016 winners of the DBS-NUS Social Venture Challenge Asia!
Selected from over 1000 entries, the winning teams will receive a total of SGD 170,000 in seed funding to accelerate their social impact. In addition to the Grand Prize and Jury Prize winner, there are two Syngenta Agriculture Social Enterprise awardees and one Singapore winner for the raiSE VentureForGood Grant Award.
Find out how these social enterprises are improving lives through their innovative ideas, in more than 12 countries across Asia. Meet the dynamic social enterpreneurs behind these impactful ventures, and mingle with like-minded changemakers. Be inspired to #ChangeAsiaToday!
The Awards Ceremony will feature a keynote by Paul Polman, CEO of Unilever and Chairman of the World Business Council for Sustainable Development. Under his leadership, Unilever has an ambitious vision to fully decouple its growth from overall environmental footprint and increase its positive social impact through the Unilever Sustainable Living Plan. Hear from this inspiring leader on how businesses can lead the way to a better world!
Event Details:
Thursday, 15 September 2016, 2pm - 4pm
@ NUS University Cultural Centre, 50 Kent Ridge Crescent
Programme Overview:
2.00 - 2.30pm: Registration and arrival of guests
2.30 - 4.00pm: Awards Ceremony Programme
Welcome Address by NUS Enterprise and DBS Foundation

Keynote Address by Paul Polman, CEO, Unilever
Pitching by Finalists and Q&A
Presentation of Awards
4.00pm onwards: Tea Reception and Social Enterprise Showcase
---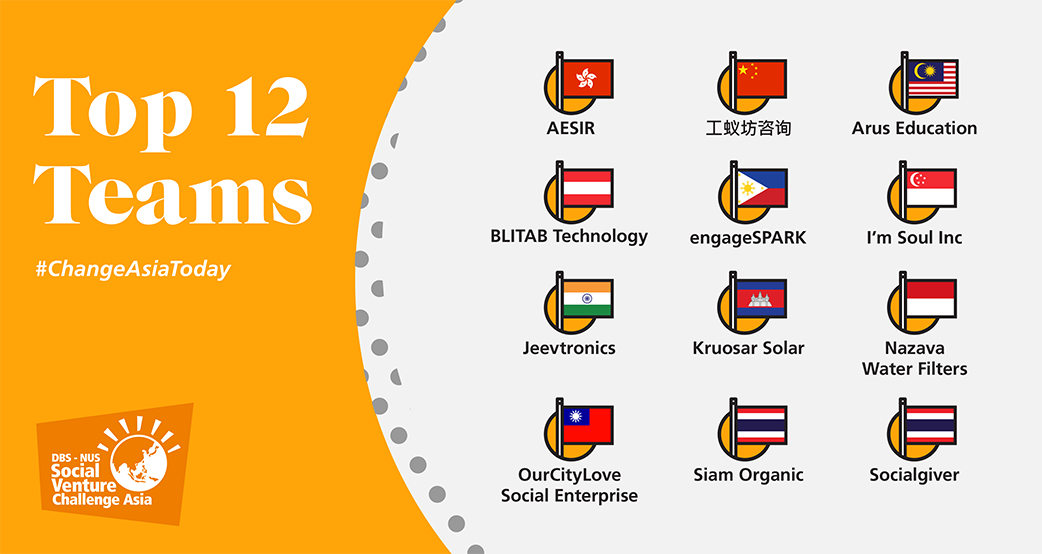 1. AESIR, Hong Kong
AESIR creates serious games to promote social inclusion for persons with special needs. In cooperation with professional counsellors and play therapists, AESIR provides augmented reality apps and books to develop foundational life skills through play therapy.
2. 工蚁坊咨询 (Ants Workshop), China
工蚁坊咨询 (Ants Workshop) strives to increase the employability of young migrant women from rural China through their training workshops. They also provide professional consultancy to NGOs and startups in areas of finance, legal and taxation.
3. Arus Education, Malaysia
Arus Education plans to run a network of low-cost private schools for underprivileged students aged 13 – 16 to receive quality education through the process of making.
4. BLITAB Technology, Austria
An "iPad" for the blind, BLITAB is the first-ever Braille tablet that creates tactile Braille, graphics and maps for those with sight loss so blind people can learn, work and play with one mobile device, leading to employment generation and equality empowerment.
5. engageSPARK, Philippines
engageSPARK is a simple, cloud-based integrated platform that enables non-profits to build Voice and SMS programs to engage low-income communities in developing countries.
6. I'm Soul Inc, Singapore
Through awareness-raising activiites, music technology, an online portal, and training programmes, I'm Soul Inc. Pte. Ltd. enables people and communities to unlock the therapeutic power of music easily, 24 / 7, at a low cost, regardless of age, culture, abilities, or disabilities.
7. Jeevtronics, India
Jeevtronics reduces the rate of cardiac arrest in developing countries with an affordable, reliable hand-cranked defibrillator that runs independently of an external power source.
8. Kruosar Solar, Cambodia
Kruosar Solar is tackling the problem of energy access in Cambodia by building a last-mile distribution network for sales, installation and after-sales care of solar home systems (SHS).
9. Nazava Water Filters, Indonesia
Nazava aims to provide safe, affordable household water filters to allow everyone, everywhere – in particular those at the bottom of the pyramid, to have access to drinking water.
10. OurCityLove Social Enterprise, Taiwan
OurCityLove Social Enterprise have developed an accessibility information structure that links data of cities' accessible restaurants, transportation, other facilities and services together on a cloud-based platform.
11. Siam Organic, Thailand
Siam Organic uses innovative organic products with global appeal – "Jasberry rice" – to alleviate farmer poverty in Thailand.
12. Socialgiver, Thailand
Socialgiver is a platform that turns businesses' surplus capacity into donations for charity, through sale of giftcards/vouchers to online consumers.
Organiser of DBS-NUS Social Venture Challenge Asia Awards Ceremony
NUS Enterprise
NUS Enterprise plays a pivotal role in advancing innovation and entrepreneurship at NUS and beyond. It actively promotes entrepreneurship and cultivates global mind-sets and talents through the synergies of experiential entrepreneurial education, active industry partnerships for technology and commercialisation, holistic entrepreneurship support and catalytic entrepreneurship outreach. Its initiatives and global connections support a range of entrepreneurial journeys and foster ecosystem building in new markets. As Asia's Thought Leader for Innovation & Enterprise, it augments and complements the University's academic programmes and acts as a unique bridge to industry well beyond Singapore's shores. For more information, please visit https://enterprise.nus.edu.sg
DBS Foundation
As a corporate foundation in Asia solely dedicated to championing social entrepreneurship, DBS Foundation contributes towards building a more inclusive society so that those at society's margins can enjoy productive and rewarding lives. DBS Foundation works with Social Enterprises and Social Entrepreneurs in Singapore, India, Indonesia, China, Taiwan and Hong Kong with programmes ranging from venture challenges, learning forums, project grant support, financing and skilled volunteer mentoring. The Foundation is an endeavour from DBS Bank to make an even greater impact in addressing Asia's evolving social needs. Visit us at: www.dbs.com/dbsfoundation