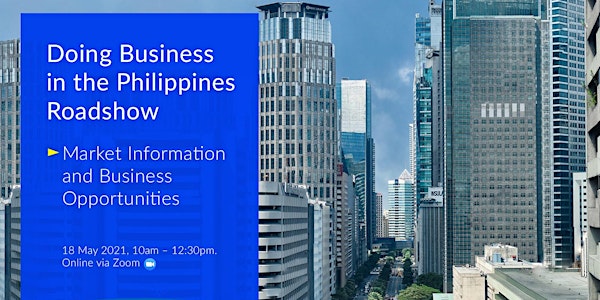 DCCP Doing Business in the Philippines Roadshow - Session 1
The Dutch Chamber of Commerce in the Philippines invites Dutch companies to attend a briefing on opportunities in the Philippines
About this event
The Philippines has consistently recorded annual GDP growth of over 6 percent since 2012. And while the Covid19 pandemic and its resulting quarantine measures has brought contraction in Philippine GDP, increasing consumer spending and reacceleration of the government's infrastructure projects move the Philippines towards a gradual economic rebound. These key drivers to economic recovery provide opportunities for Dutch companies to expand their businesses in the Philippines.
The Dutch Chamber of Commerce in the Philippines (DCCP), in association with NLinBusiness and with support of KLM, invites Dutch companies for a Virtual Roadshow between May 18 and June 3 2021 to provide more information about concrete business opportunities for Dutch companies in the Philippines.
The first session will focus on the general market opportunities and business information. DCCP will present a country profile including marketing information covering the following areas among others:
Market trends and economic drivers
Consumption
Legislative developments
Labour market overview
Economic zones and priority sectors
Status-update on Covid-19
Business do's and don'ts
Testimonials, insights and experiences of Dutch companies in the Philippines
Programme:
10:00 – 10:05 Word of Welcome
Mr. Joost Mes, President, Dutch Chamber of Commerce in the Philippines
10:05 – 10:10 Opening of the Roadshow
Her Excellency Saskia de Lang, Netherlands Ambassador to the Philippines
10:10 – 10:35 Country Profile
Mitchel Smolders, Executive Director Dutch Chamber of Commerce in the Philippines
10:35 – 10:50 Covid-19 Recovery Trajectory
TBC
10:50 – 11:00 Open floor
11:00 – 11:30 Private Sector Testimonials and Experiences
Mr. Arthur Plugge, KLM Philippines
Ms. Monique Wisse, DOT - Development of Trade
Mr. Gerben Eekman, SwissSense Worldwide (TBC)
11:30 – 11:40 Open floor
11:40 – 12:05 Market Entry Strategies The Philippines - How to do Business?
Development of Trade
12:05 – 12:10 Key take-aways
His Excellency J. Eduardo Malaya, Philippine Ambassador to the Netherlands
12:10 – 12:15 Introduction to the Dutch Chamber of Commerce Activities
Mr. Mitchel Smolders, Executive Director, Dutch Chamber of Commerce in the Philippines
12:15 – 12:20 Overview of Embassy activities and priorities
Ms. Eileen Vizmonte, Senior Policy Officer – Economic & Trade Development, Netherlands Embassy
12:20 – 12:25 NLinBusiness
TBC
12:25 – 12:30 Upcoming sessions and closure
The Dutch Chamber is also hosting dedicated information sessions on the following topics:
Agriculture and Food - 25 May 2021
Maritime and Logistics - 27 May 2021
Circular Economy (including Energy, Water, Waste) - 1 June 2021
IT & Tech - 3 June 2021