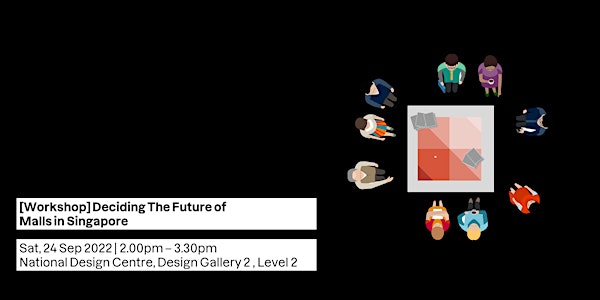 Deciding The Future of Malls in Singapore
Take on different roles to decide the fate of a mall in this participatory workshop.
When and where
Location
National Design Centre Design Gallery 2, Level 2 (Community Space within the Fifty Years of Singapore Design exhibition) 111 Middle Rd Singapore, 188969 Singapore
About this event
Why do some malls seem to stay stuck in time? Should they be rejuvenated to 'stay relevant'? Learn more about the decisions to rejuvenate a mall using a deck of cards – a toolkit designed to simply the decision-making process. In this interactive workshop, take on different roles as various stakeholders who get to decide the mall's fate.
Participants should have visited strata malls (e.g. Queensway Shopping Centre, Far East Plaza, Golden Mile Complex) and HDB neighbourhood malls.
To learn more about the projects, visit the Good Design Research pop-up exhibition – A Day in the Life at Bugis+.
Community Event of SDW 2022
About Good Design Research
Launched by DesignSingapore Council in March 2020, GDR empowers local designers and enterprises to drive change in the areas such as environmental sustainability, communities & culture, and people & organisations. Through projects supported and funded by GDR, local designers have created eco-friendly alternatives to plastic takeaway containers, repurposed local felled trees, and designed ways to foster better relationships with our work and our communities.
Uncover how design can drive innovative ideas to improve our daily lives here: https://designsingapore.org/initiatives/gdr-stories/
About Spatial Anatomy
Spatial Anatomy is a strategic design practice working on projects across scales, culture and geographies. Through a rigorous process of research and ground engagement, Spatial Anatomy has collaboratively objects, spaces, and strategies for cities across Asia alongside policy makers, grassroots, and local governments. Founded in 2016 by Calvin Chua, the firm has since been recognised for its unique approach towards design through various awards, including a Special Judges Award at the 2021 Taipei International Design Award, shortlist for the Debut Award 2022 and longlist for the Royal Academy's Dorfman Prize 2020.