An event featuring Kathrina Chin certified happiness, wellbeing, and life purpose coach about how to become happier, and healthier.
About this event
Are you feeling down? Feeling like you are stuck in a rut? Feeling like you need a new purpose? Feeling like lockdown is harming your mental wellbeing?
If you answered yes to any of the above, this event is for you.
Decoding happiness will commence on the 22nd of July at 2pm GMT (Irish time) and 9pm MYT (Malaysian time). This event is focused on happiness, wellbeing and mindfulness to assist you with being your best and happiest self.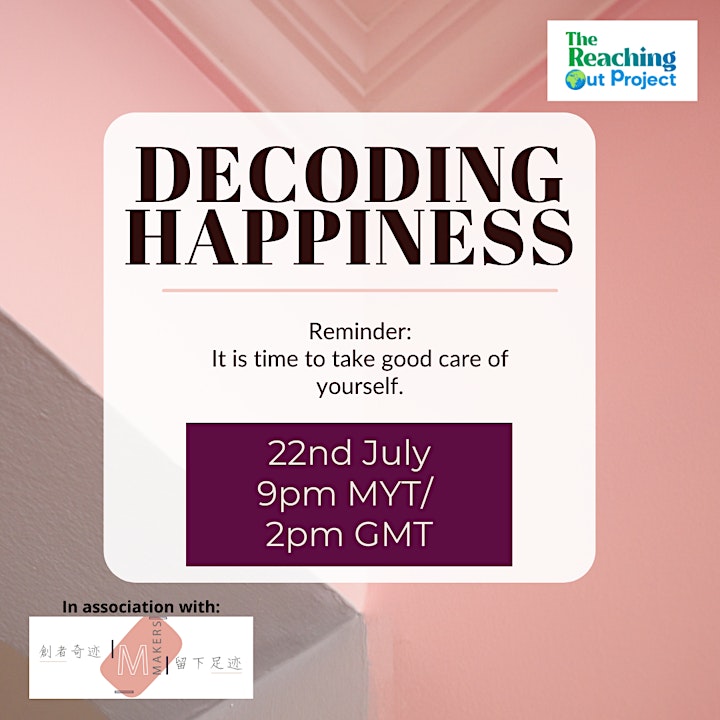 Kathrina Chin, the founder of The Reaching Out Project and certified happiness, mindfulness and life purpose coach will be the key speaker at the event.
There will be a special giveaway on the night for all attendees, a Question and Answer session with Kathrina Chin, and activities to assist with developing a positive mental attitude.
Visit https://thereachingoutproject.com/ to know more about The Reaching Out Project
LOCATION
This will be a virtual live session. Once signed up, you'll receive a link to register to our Zoom virtual classroom.
GROUND RULES
* Please join on time, and be mindful with any noises throughout the session (possibly mute yourself).
* This will be an interactive session, videos will be encouraged.
* Make sure to stay hydrated.
* NOTE: We reserve the right to add, postpone, change or cancel the start dates of our workshops, in which case we will inform you in advance.