Join us in this 2-hour complimentary webinar and find out how to think from a hacker's perspective!
About this event
Cyber attacks are smartly strategized and rolled out in stages as it penetrates their way and makes their attack into an organization's network. This is called an attack lifecycle. In order to achieve and launch a successful attack, they must progressively advance through each stage.
To protect organizations' networks and data from any cyber attack, prevention must be present at each stage. This helps to break the attack lifecycle and keep cyber attacks at bay.
Join us in this 2-hour complimentary webinar and find out how to think from a hacker's perspective!
In this 2-hour complimentary webinar, Anthony will share with you
The 5 Stages of a Cyber Attack
Understanding the Cyber Attack Lifecycle
Adopting a Hacker's Point of View
The Consequences of a Cyber Attack
There will be no recording provided for this webinar so be sure not to miss it!
All of our Zoom Webinars are password protected, which will only be provided upon registration on Zoom.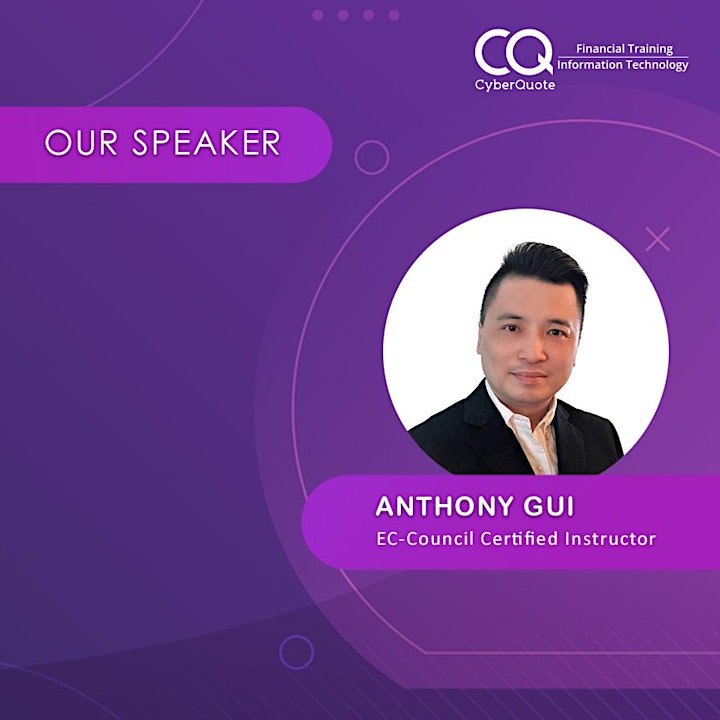 About Anthony
Anthony Gui built his career as an Information Technology (IT) professional with over 20 years of experience in both manufacturing and service industries locally and regionally. As a well-qualified IT professional, Anthony is actively involved in many business operations and projects which includes – designing and implementing Information Security Policy, Novell Netware and administering Microsoft Windows servers for different corporations.
Anthony has also accumulated at least 6 years of training experience in lifelong learning, specialising in Cyber Security curriculum development and IT Security related training. A go-getter and humorous individual, Anthony conducts his class in an interactive, lively and unique style, making him an all-time favourite and exclusive trainer for some well-known banks, government agencies, and MNCs.
IMPORTANT NOTES FOR SEMINARS
Please note that under the Singapore Personal Data Protection Act (PDPA) 2012, CyberQuote Pte Ltd respect the privacy of all our customers and visitors, and are committed to safeguarding the personal information you provided to us.
For the event registrations, you will be requested to provide your personal particulars, which include but are not limited to the following:
a) Full Name
b) Contact details, including telephone number/s and/ or email addresses
Please note that CyberQuote Pte Ltd will send out "Email Confirmation", Short Message Service (SMS), events / seminars and marketing via email to all registrants for all CyberQuote Pte Ltd events.
Should you wish to withdraw your consent from receiving events information, please contact us at support@cyberquote.com.sg. All personal data held by CyberQuote Pte Ltd will be kept confidential, will not use and disclose to third parties.
Disclaimer
The contents of this document, including the terms and conditions, are subject to change and may be modified, deleted or replaced from time to time and at any time at the sole and absolute discretion of CyberQuote Pte Ltd ("CQ"). CQ accepts no responsibility for the results of any actions taken by students after attending our courses, nor for the accuracy or completeness of any material contained herein. Information on courses or any other arrangement for courses, including fees, staffing and class sizes are an expression of CQ's intentions only and do not constitute a firm offer or undertaking to you. CQ reserves the right to discontinue or vary courses without notice and to impose limitations on enrolment in any course. Opinions and projections reflect our opinion as of the date of the analysis and are subject to change without notice. Investors should make their own investment and trading decision based on their own final analysis. All forms of investments carry risks, including the risk of losing all of the invested amount. Such activities may not be suitable for everyone. Past performance is not indicative of future results.
Copyright © CyberQuote Pte Ltd. All rights reserved. No part of this publication may be reproduced, stored, transmitted in any form of by any means without CyberQuote Pte Ltd's prior written consent.
Organiser of Decoding the Stages of a Cyber Attack
CyberQuote Pte Ltd
With more than 16 years' track record in the financial industry, CyberQuote ("CQ") has built a reputable name among financial players as a quality training institution. CQ specialises in financial and trading education for both professionals and novices, delivering knowledge through theory and practical teaching by experienced practitioners.
Through leading edge financial seminars and courses, CyberQuote is able to maximise your success and meet your immediate investment and trading needs.