What is the importance of Defining you?
About this event
What is the importance of Defining you?
Join me in this session as I shared my journey from being a Consultant to Entrepreneur to Gig worker and to being a People Builder. For those who seek clarity in their life, this may be a session that may help give you further insights into your life.
About James Ng
You can read his full profile here.
With technology and disruptions occurring at an even faster pace, it is important to be ready for the future. I am a Transformation Enabler and a Coach. I like to help individuals seek clarity in their life and upon embarking on my program on digital skills and personal branding program, I hope to equip each individual with the necessary skills to be transformed and be ready for the future.
I have been in the corporate and consulting domain for years. On the side, I am also an entrepreneur, following my passion, setting up a soccer school, coaching and transforming students in the community. With a mix of experiences in both corporate and entrepreneurship, I am sharing my experiences and programs, hoping to give you the extra edge and value in making changes and being transformed in your life.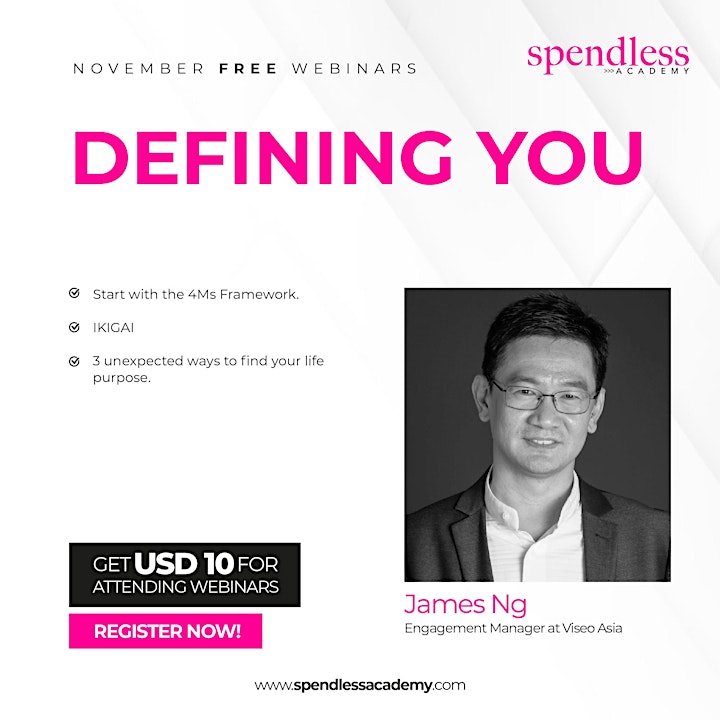 Organiser of DEFINING YOU
Spendless Academy is a educational platform that connects mentors & experts to entrepreneurs, to encourage the learning via live webinar of real experience sharing. Spendless Academy actively runs programs, and seminars to connect with more trainers globally to continue educating and empowering entrepreneurs & business students.