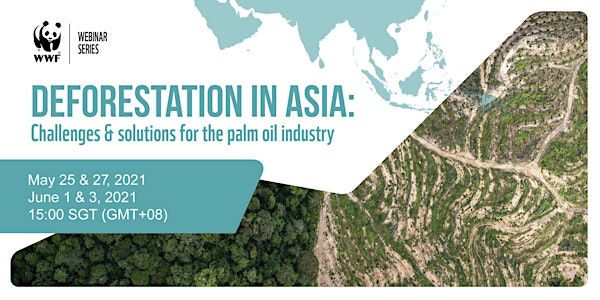 Deforestation in Asia: Challenges & solutions for the palm oil industry
A four-part webinar series focusing on how palm oil buyers and financiers in Asia can contribute to a sustainable palm oil industry.
By World Wide Fund for Nature (WWF)
Date and time
Tue, 25 May 2021 00:00 - Thu, 3 Jun 2021 01:30 PDT
About this event
Palm oil is the world's most versatile vegetable oil – contributing to economic development in many regions, especially Southeast Asia. However, unsustainable production has led to widespread destruction of rainforests and biodiversity. Habitats of endangered species continue to be threatened, along with the rights of local communities and indigenous people.
This four-part webinar series by WWF will discuss palm oil demand and trade patterns in Asia – uncovering opportunities for stakeholders to take ambitious action for sustainability, effectively addressing social and environmental risks. Discussions with leading businesses and financial institutions in Asia will provide multiple perspectives on progressing sustainable palm oil in the region.
The following webinars will be held in Singapore time, or GMT+8.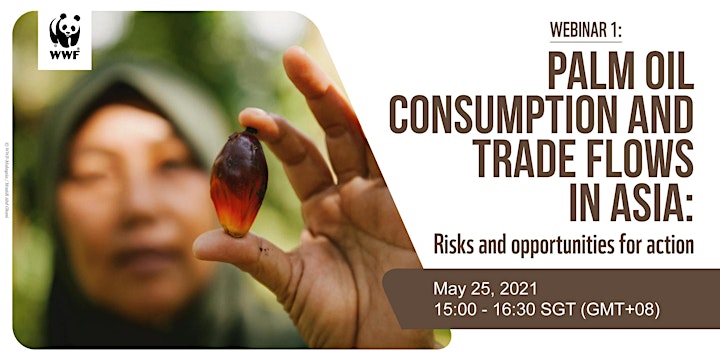 In this first webinar, WWF will highlight key risks and opportunities to boost demand for certified sustainable palm oil in five Asian markets, featuring new data and research commissioned by WWF. Insights will include:
Palm oil consumption trends in five key Asian markets
Trade flows from priority conservation areas in Malaysia and Indonesia
Solutions for making tangible progress in the uptake of CSPO in Asia.
Experts from across the WWF network will share new insights on palm oil consumption trends in key Asian markets, and solutions for making tangible progress in the uptake of CSPO in Asia:
Michael Guindon, Global Palm Oil Lead, WWF-Singapore
Mai Lan Hoang, Palm Oil Engagement Manager, WWF-Singapore
Octyanto Bagus Indra Kusuma, Senior Palm Oil Engagement Manager, WWF-Singapore
Xin Yu, Priority Project Coordinator, Sustainable Food Consumption and Supply Chain, WWF-China
Bhavna Prasad, Sustainable Business Director, WWF-India
Aditya Bayunanda, Head of Footprint and Market Transformation Program, WWF-Indonesia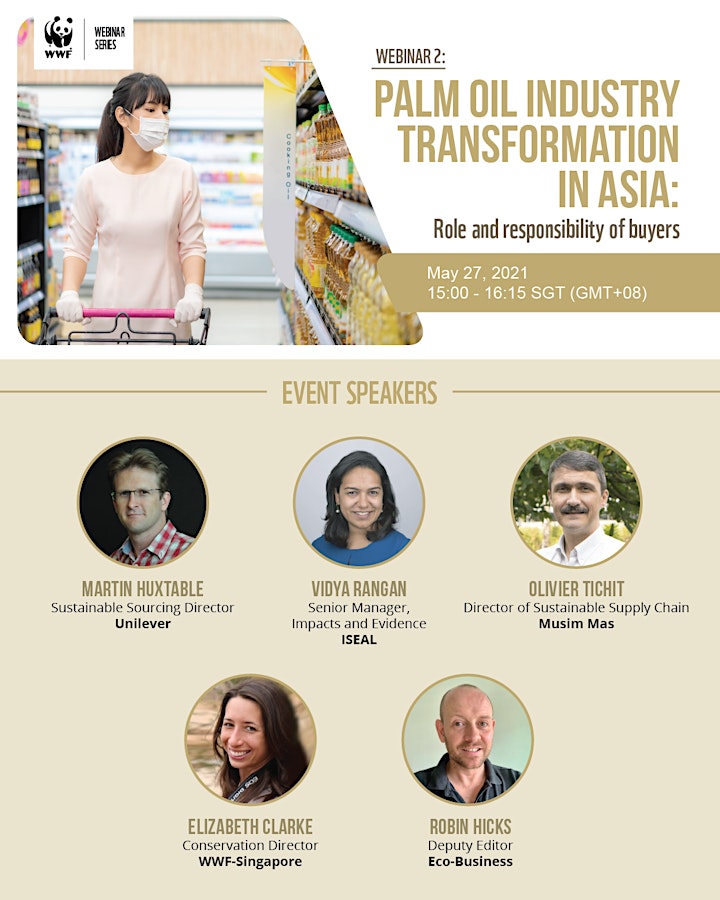 Palm oil buyers in Asia have an integral role in the palm oil value chain, and hence can be catalysts to transform the industry for sustainability. In this second webinar, WWF will address how buyers in Asia can:
Manage deforestation risks by setting corporate expectations and developing ambitious policies, with Singapore as a positive case study for palm oil action
Identify opportunities for action beyond supply chains, with case studies for collaborative action across stakeholders.
This session includes a panel discussion with business leaders, sharing insights on their own practices, identified challenges, and opportunities for action.
By financing companies operating in the palm oil sector, financial institutions play an important role in driving sustainable practices throughout the palm oil value chain. During this session, learn more about how banks and investors can:
Identify and assess palm oil-related deforestation risks in their portfolios
Manage deforestation-related risks by setting corporate expectations, developing sector policies, and enhancing corporate engagement
Uncover sustainable financing opportunities.
This session includes a panel discussion where banks and investors will share insights on their own practices, identified challenges, and financing opportunities.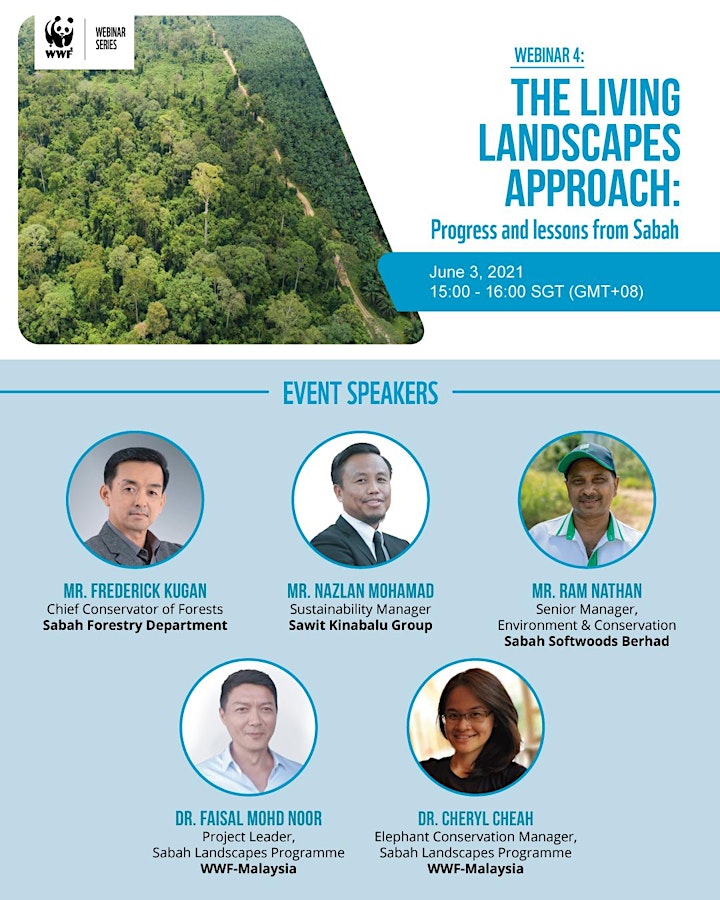 The Living Landscapes Approach in Sabah is a model of innovative nature-based solutions to protect biodiversity in balance with economic development. In this last session, we will feature key success insights from the programme, such as:
Private corporations role in taking action beyond their own supply chains, providing innovative solutions to wildlife protection
The latest initiative by the Sabah State Government in achieving its ambitious target of 100% RSPO by 2025
How this approach can be applied in a different region or ecosystem.
Disclaimer: By registering to this webinar series, you agree to WWF International's Privacy Policy and WWF Singapore's Privacy Policy. Please note that the event will be recorded for sharing purposes.