Join us as we discuss the many advocacy, ethical and economic factors at play in the pursuit of sustainable design.
About this Event
Following through on a sustainable design intent isn't always easy, but there's no time to waste in tackling climate change and other sustainability issues.
What are the biggest barriers to achieving more environmentally sustainable cities, buildings, interiors and products? Are there viable ways to overcome them? When do top-down regulations need to be bolstered by bottom-up sustainability initiatives?
A panel of designers tackles the many advocacy, ethical and economic factors at play in the pursuit of sustainable design.
Programme
4.30PM: Welcome and introduction
4.35PM: Panel discussion
5.30PM: Q&A Session
6.00PM: Closing
About the Panel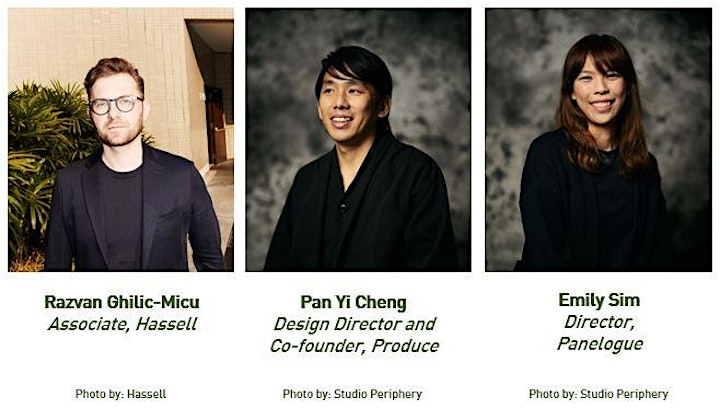 Razvan Ghilic-Micu, Associate, Hassell
Razvan is an Architect with a keen interest in innovation and agility, and an advocate for resilience by design. At Hassell he is involved in designing new-generation working and mixed-use environments in Singapore and across Australasia. He is a graduate of Princeton University with over a decade of professional experience in Singapore, Shanghai, New York and Toronto. Razvan balances practice with ongoing involvement in the Singapore Institute of Architects, where he serves as the Chief Editor of The Singapore Architect magazine. He also leads a Design Studio Unit at the National University of Singapore.
Pan Yi Cheng, Design Director and Co-founder, Produce
Pan Yi Cheng is the Design Director and co-founder of Produce. Established in 2013, Produce was set up as a design studio with a prototyping workshop to deliver highly robust and bespoke design solutions from concept to construction. Since establishment, Produce has completed a number of highly acclaimed and publicised projects including, Wild Rocket, Kki Sweets and the Little Drom Store, and Monoform Living. Prior to this, he graduated with honours from the Architectural Association in London and was chosen as one of the top eight UK graduates in 2006. He has accumulated more than 10 years of working experience in the fields of architecture and academia, working with renowned international firms such as Arup Advanced Geometry Unit, TP Bennett, Serie Architects and UNStudio.
Emily Sim, Director, Panelogue
Emily Sim is the Director of Panelogue. The company endeavours to shift production and consumption patterns so that builders, designers and architects can create spaces where ecology and urbanisation can progress in parallel. Having graduated from Singapore Management University and undertaken an apprenticeship in Sumitomo Forestry Japan, she now works with individuals, brands and government agencies on the selection and implementation of sustainable builds and regulations. She currently serves on the board of Singapore Furniture Industries Council (SFIC) as an executive committee member and, previously, as an executive committee member of the Singapore Timber Association.
Yvonne Soh, Executive Director, Singapore Green Building Council
Yvonne Soh is the Executive Director of the Singapore Green Building Council (SGBC), an industry organisation founded on a strong public-private partnership to drive the transformation of Singapore's built environment. Prior to joining SGBC, she established the operations of the Waste Management and Recycling Association of Singapore (WMRAS) as its first Executive Director. Yvonne is a registered Professional Engineer (Civil) and Green Mark Accredited Professional. She has extensive experience with the government sector, having been with the Building and Construction Authority (BCA) for a decade heading the Centre for Sustainable Buildings and managing portfolios in policy development, regulatory control, industry promotion, and research & development. Yvonne is passionate about driving corporate action on climate change and the development of programmes to motivate and sustain a virtuous cycle of action.
Benjamin Henry Towell, Senior Architect, Building and Construction Authority
Benjamin Towell is an award-winning Architect, policy maker, Chartered Surveyor and Chartered Environmentalist. He is a respected thought leader, assessor of buildings and districts for their environmental performance. He is a Senior Architect within the Environmental Sustainability Group of the Building and Construction Authority (BCA), where has been involved in the development of Singapore's Environmental Policy within the built environment sector over the last decade, including the development of Green Mark 2015, and directing the response to advancing net-zero energy through the Super Low Energy (SLE) Programme. He is the Author of the Singapore Institute of Architects Green Book and was previously the Chair of the World Green Building Council's (WorldGBC) Rating Tool Task group. He currently holds the Urbanisation and Planning Strategy seat on the Royal Institution of Chartered Surveyors (RICS) Governing Council.
Presented by DesignSingapore Council and supported by the National Design Centre.
This event is part of the National Design Centre's "Sustainability & Design" programme line-up for January 2021.