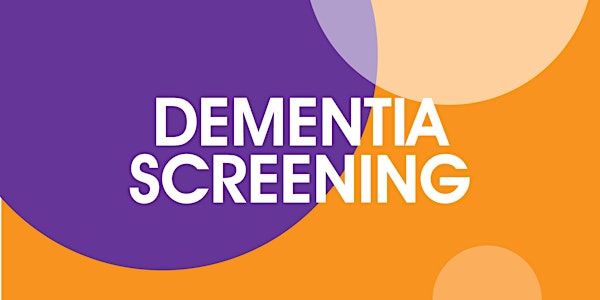 Dementia Screening for Residents of Changi Simei - SM20221203DS
Prevention and early detection allows for better management of the condition.
Date and time
Sat, 3 Dec 2022 09:00 - 13:00 +08
Location
Changi Simei Zone 3 RC 153 Simei Street 1 Singapore, 520153 Singapore
About this event
PLEASE NOTE THAT THIS SCREENING IS FOR CHANGI SIMEI RESIDENTS ONLY!
WHAT?
MAIN EVENT:
DEMENTIA SCREENING
Dementia is not part of normal ageing. Dementia screening is important as a diagnosis will enable you to get help early to maintain quality of life for yourself and your family. Screening is conducted by trained assessors from Brahm Centre.
Sign up for a screening for yourself or your loved ones today!
Symptoms of Dementia:
Forgetfulness that affects day-to-day functions
Difficulty planning or solving problems
Withdrawal from work or social activities
Confusion of time and place
Changes in personality, mood or behaviour
Poor or decreased judgment
Problems with communication
Misplacing things
OPTIONAL EVENT:
FALL RISK ASSESMENT
Community nurses from Changi General Hospital will conduct fall risk assessments and share useful
OPTIONAL EVENT:
ADVANCE CARE PLANNING
Help your family and healthcare providers know the kind of care you would like to receive, should you become very ill
COST: $5.00 / PERSON
PLEASE NOTE THAT THIS SCREENING IS FOR CHANGI SIMEI RESIDENTS ONLY!
WHEN?
Date: 3 December 2022 (Saturday)
Time: 9.00am - 1.00pm
WHERE?
Venue: Changi Simei Zone 3
HOW?
Call Changi Simei CC at 6787 5265 to register
CC Operating Hours:
10.00am to 6.00pm daily,
except for PHs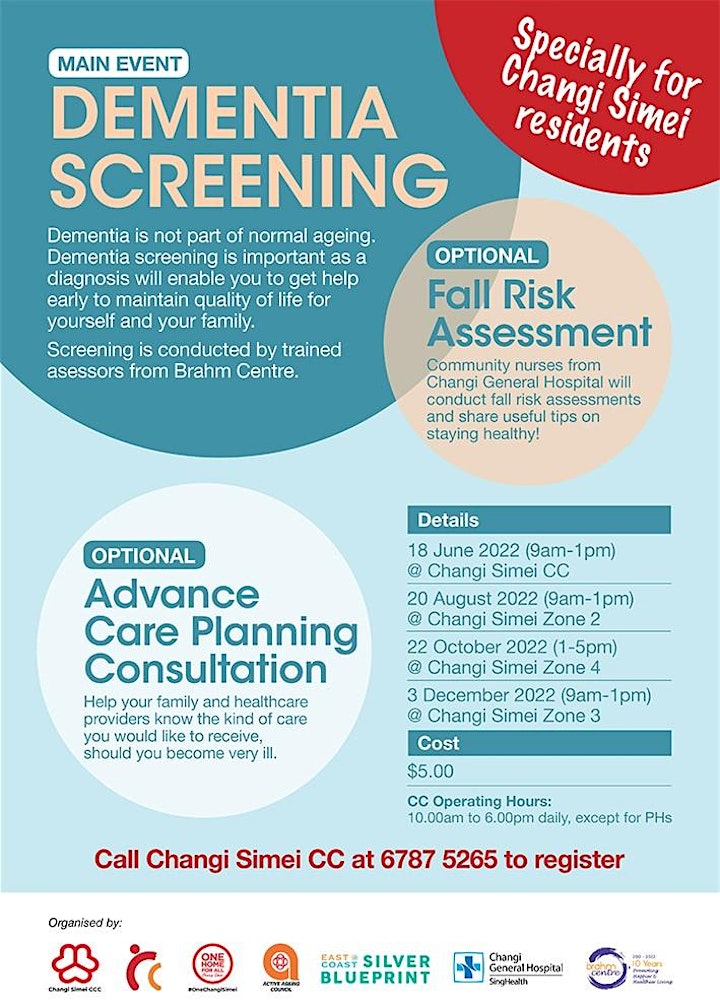 About the organiser
Brahm Centre is a leading course provider of a wide range of science-based mindfulness programs to reduce stress and enhance well-being in today's fast paced world. We have worked with healthcare agencies, schools and corporations to equip employees, parents and students with mindfulness tools to help them stay physically and mentally well. 
Course graduates may enhance their practice by joining our weekly mindfulness clubs. Furthermore there are free regular health talks conducted by healthcare professionals and qualified speakers open to the public.
Launched in 2012 as a charity that aims to promote happier and healthier living, Brahm Centre is a full member of the National Council of Social Services and an Institution of Public Character.
Come begin your mindfulness journey with us. 
Please note that all course registrations are NON-refundable. Transfer of selected mindfulness courses is subject to a $30 transfer fee and a $10 admin fee for a mindfulness make-up class. There are NO transfers or make-up classes available for all other courses.