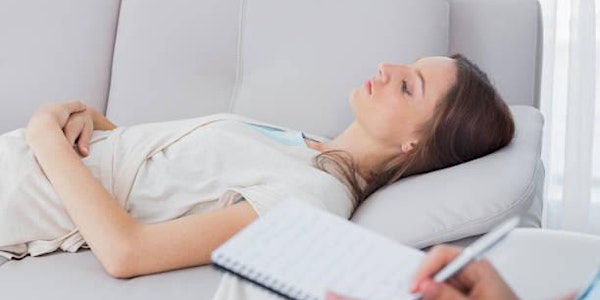 Demystifying Clinical Hypnotherapy
Hypnotherapy distracts your conscious mind with relaxation so that you can access your subconscious mind, the center of all your feelings
Date and time
Wed, 14 Jun 2023 21:00 - 22:30 PDT
About this event
1 hour 30 minutes

Mobile eTicket
Hypnotherapy distracts your conscious mind with relaxation so that you can access your subconscious mind, the center of all your feelings, habits, and memories. This allows deeper thoughts and feelings to come to the surface. By healing these past memories and reframing our beliefs, you can make positive and permanent changes that you desire.
Hypnotherapy helps by becoming aware and then desensitizing old memories and habits–things you may not even know are there. These old patterns get in your way, emotionally block you for years and prevent you from moving forward. By healing these patterns, you can create positive responses and achieve permanent change. Hypnotherapy can be a highly effective form of treatment for many emotional, mental, psychosomatic, behaviour patterns and physical disorders.
What will we discuss in the talk?
- Understand How MIND operates (Theory of the MIND)
- Origin of emotional patterns and belief symptoms and ways to deal with it
- Introduction to the Integrated Clinical Hypnotherapy course that certifies you to become a Clinical Hypnotherapist.
You may want to consider attending this talk to explore Clinical Hypnotherapy if you are :
- Currently a therapist who is looking to achieve deeper healing results with clients- Interested in becoming a therapist to help improve lives of clients or,
- An individual looking for a personal healing breakthrough and spiritual awareness
We will also share with you more information about how to explore hypnotherapy as a client for your own healing or become a certified Hypnotherapist.
For more details of the Clinical Hypnotherapy course, click here : https://redefinewellness.asia/integrated-clinical-hypnotherapy/
Talk Schedule (Singapore Time) :
Timing : Saturday @10am - 11.30am
Tickets : Free
Registration : RSVP with your email and mobile to receive Zoom link
For any additional questions or information, please contact Shirley at +65-91992684 shirley.tay@redefinewellness.asia or Pooja at +65-97276181 pooja.arora@redefinewellness.asia
For more details and information on workshops and classes schedule, please visit our website : https://redefinewellness.asia/view-schedule/
By registering for this event you agree with our Terms of Service (https://redefinewellness.asia/terms-or-service/) and Privacy Policy (https://redefinewellness.asia/privacy-policy-3/). You also give us permission to reach out to you for this or similar events. You can always change these permissions by letting us know at info@redefinewellness.asia.