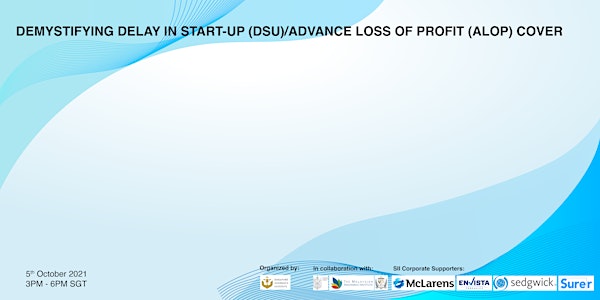 DEMYSTIFYING DELAY IN START UP (DSU)/ADVANCE LOSS OF PROFIT (ALP) COVER
Event Information
Refund policy
Contact the organiser to request a refund.
Eventbrite's fee is nonrefundable.
DEMYSTIFYING DELAY IN START UP (DSU)/ADVANCE LOSS OF PROFIT (ALP) COVER
About this event
Delay in Start Up (DSU) - also referred to as Advance Loss of Profits (ALOP) - insures project owners for the financial consequences of a delay to a project completion arising from an insured physical damage event.
In this field, undreamt-of possibilities emerge for the DSU/ALOP underwriter. Risk monitoring activities carried out by underwriters during the policy period include the progress of work, deviations from the original plans, and the updating of the scheduled date of commencement of the insured business. This places the underwriters in a position to recognize changes in the risk and to react appropriately, in the event of a claim. For this reason, the ALOP underwriter must be sufficiently experienced to selectively request the precise technical information required on the risk to be insured and to assess this information in an expert manner.
Also, the range of material damage which triggers the insurer's liability in DSU/ALOP insurance is by far the broadest, compared with all the other types of Business Interruption/loss of profit insurance. It is very important to examine the critical path of the project and determine the float available subsequent to an Insured event to mitigate the exposure. Eventually, the ALOP exposure would depend on the date upon which commercial operations would have commenced absent any insured events versus the actual date of commencement.
Underwriting and handling of DSU/ALOP losses is complex and each case represents a unique situation and requires experienced brokers, underwriters, claims experts, loss adjusters and consultants. To understand the issues and challenges in DSU/ALOP cover and to establish a stable and profitable operating environment for the construction and insurance industry, please join us for this event where we will be drawing on the experience of industry experts to provide insights on the issues, challenges and potential solutions for the DSU/ALOP cover.
This event is suitable for the new entrants and seasoned professionals including insurers/reinsurers, brokers, adjusters, clients, risk managers as well as technical experts.
This session will cover the following topics:
UNDERWRITING ALOP/DSU COVER:
Introduction to ALOP/DSU coverage
Situation-based analysis of various ALOP/DSU covers offered globally
Controlling risks during the construction stage
Monitoring and management of changes
Coverage extensions/limitations during the construction phase.
Managing co-insurers expectations during a loss
Question and Answer session
BROKER'S PERSPECTIVE OF ALOP/DSU COVER:
A brief history of time
Fundamentals of ALOP/DSU cover
Current market status & foreseeable future
Common issues and coverage triggers
Clients' concerns in ALOP/DSU cover
Commonly observed claims issues in DSU/ALOP coverage
Relevance of Increased Cost of Working (ICW)
Best practises for loss settlement
Question and Answer session
ALOP/DSU CLAIMS:
Indemnity period, triggers and deductibles
Quantum of Indemnity - Is Gross Profit definition a concern?
Policy extensions
Adjuster's perspective of risk minimization during construction stage
Loss mitigation and its importance
Key policy exclusions – Uninsured delays, Unindemnifiable portions, etc.
Assessment of delay and quantum of loss
Case studies
Question and Answer session
Date and time
Location
Refund policy
Contact the organiser to request a refund.
Eventbrite's fee is nonrefundable.