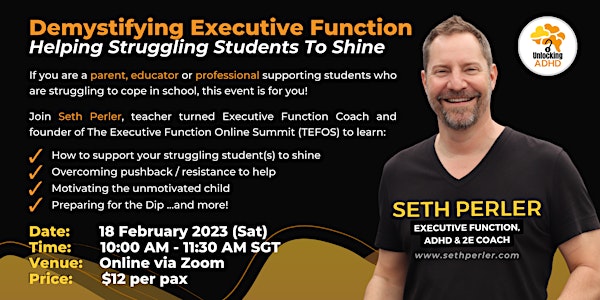 Demystifying Executive Functioning: Helping Struggling Students To Shine
Unlocking ADHD presents Demystifying Executive Function: Helping Struggling Students To Shine by Seth Perler
About this event
1 hour 30 minutes

Mobile eTicket
Did you know that more than 1 in 10 students struggle with Executive Function?
Since many adults don't understand how EF impacts these complex kids, they often don't get the help they need.
When trying to help, well-intentioned adults can unknowingly make things worse, and students become even more resistant to receiving the help they desperately need.
Many of these kids start to feel shame, as if there is something wrong with them. Long term mental health problems often arise as kids internalize shame.
When they don't develop the necessary skills they need to launch a successful future (aka "Failure to Launch" kids), they can struggle for decades.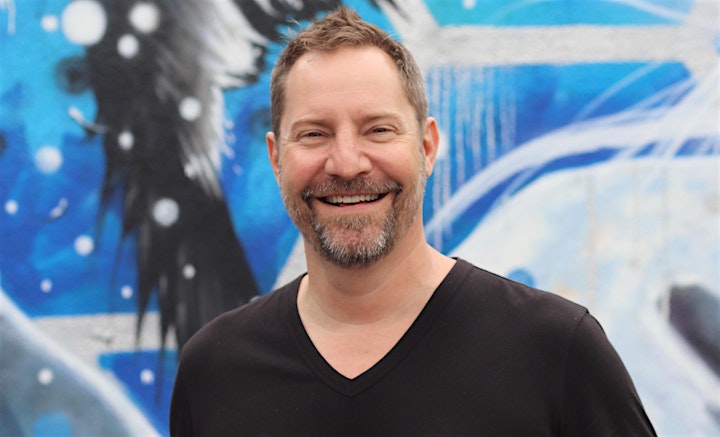 Guest Speaker: Seth Perler
Seth is a teacher turned Executive Function Coach & 2e Coach, and founder of The Executive Function Online Seminar (TEFOS), based in Hawaii. He helps struggling students navigate a crazy educational landscape and does his part to "disrupt" and improve education.
Some of his specialisations are in Executive Function, ADHD and 2e, Twice Exceptional learners. Seth wears a lot of hats, Education Consultant, Advocate, Speaker, Writer, YouTuber, Parent Coach, EF and ADHD Coach, etc.
His mission is to help the world understand Executive Function, so everyone can better support all students to get their needs met, so they are able to self-actualize and shine.
To find out more about Seth, visit his website.
Event Details
Date: Saturday, 18 February 2023
Time: 10:00am to 11:30am (Singapore Time)
Venue: Online via Zoom (Link will be provided a week before the event)
Cost: $12 per pax
Any additional donations will be much appreciated to ensure the continuity of our non-profit organisation and for us to bring to you more enriching and educational programmes.
DONATE TO US
Unlocking ADHD's mission is to empower ADHDers and their families to live life to the fullest. ADHD affects an estimated 5% of the population. It is a neurodevelopmental disorder with a far-reaching impact on a person's learning, career, work performance, relationships, finances, health and mental well-being. ADHD can result in chronic underperformance, low self-esteem, anxiety and depression. These problems can make everyday life difficult.
To support our work and help us to continue what we do, please donate to us at our Ray of Hope page to help ADHD children and adults thrive!