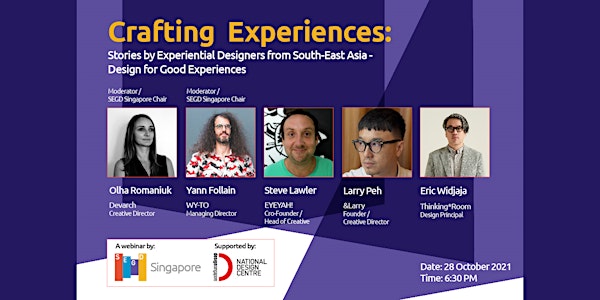 Design for Good Experiences
What goes into the making of a good experience and how do we measure the 'good' that it creates?
About this event
A good experience is often hard to define in concrete words and measuring it and its value and impact can be difficult. In the most direct terms, good experiences are exemplified by how they can shape events and interactions we share with people, things, places, services, rules, and anything else we encounter in the world round us.
There is, therefore, an unlimited potential of designing for human-centred experiences. From physical to digital, and anywhere in between, the mindset of putting people first can help to create for unforgettable experiences with positive impact and create the future we want it to be.
In our third talk of the quarterly series presented by SEGD (Society for Experiential Graphic Design)Singapore Chapter, we discuss what good experiences actually entails and whether anyone can learn how to design for good experiences. Join us in a series of conversations with design practices from Singapore and Indonesia as we discover how they design for good experiences through their diverse projects and approaches.
Steve Lawler, Co-Founder and Head of Creative, EYEYAH!
Steve Lawler is the Creative Director of EYEYAH! - an independent publication and art platform created by Steve Lawler and Tanya Wilson, which "Uses creativity for social good". Having created a name for themselves with the seminal kult magazine in the early 2000s, they went on to develop a strong network of creators for the educational space through EYEYAH! - recent recipient of the President*s Design Award 2020.
A veteran of the design industry, his career has spanned graphic design, advertising, art, interactive design and exhibition curation. In addition to his work on Kult Magazine and EYEYAH!, Steve will also share with us his experience of working with the likes of COLORS magazine and Oliveiro Toscani.

Larry Peh, Founder and Creative Director, &Larry
Recipient of the President*s Design Award in 2014 and 2016, Larry Peh is the founder of &Larry, an independent branding and design studio. Since 2005, he has produced a body of work that exemplifies the spirit of collaboration, resulting in innovative experiences and stronger connections between people and brands while respecting business needs.
Codifying the studio's creative process under the Soul Purpose™ methodology, Larry is a staunch advocate for bringing out the true essence of a brand. He believes in leaving his mark not through his creations, but by the good that they deliver.

Eric Widjaja, Design Principal, Thinking*Room
Eric Widjaja graduated from the Academy of Art University, San Francisco. Initially studying Industrial Engineering, he then laboured his passion for Graphic Design for a decade and a half - realizing that design is another form of language in the visual context. After leaving parts of his heart in San Francisco, Eric flew home and founded Thinking*Room a few years later.
Since day one, Eric has always enjoyed immersing himself in the process - more so than the end result. A big fan and a practicing craftsman of emotion-driven design, Eric believes in creating designs that resonate with people and an environment that centres around togetherness for his team.

Olha Romaniuk, SEGD Singapore Chair / Creative Director, Devarch
Olha Romaniuk is a creative director at a design-build firm Devarch and a co-chair of SEGD Singapore Chapter. With a background in architecture, Olha Romaniuk has honed her spatial and environmental design skills working at architectural and exhibition design firms in the United States and Singapore. Currently, a creative director of Devarch, Olha oversees projects in entertainment, attractions, cultural and commercial sectors in Singapore and the region.
An avid proponent of taking a holistic approach to every design challenge, Olha believes in meaningful and purposeful solutions that go beyond the pure aesthetics or latest trends. She is inspired by designs that break the mould – whether it is through the exploration of construction methods, innovative space planning, graphics or simply through rethinking everyday objects.

Yann Follain, SEGD Singapore Chair / Managing Director, WY-TO
Yann Follain is the founder of WY-TO's Singapore practice and co-founder of WY-TO architects in Paris. He has built a rich multicultural experience from his formative years in Indonesia, France, and Singapore. Embracing multidisciplinary approaches to grow the Singapore practice has established Yann's diverse expertise in sustainable architecture, cultural curation and exhibition design. Together with his team, WY-TO received the Future-Maker award at the Beijing Global Innovation Conference, an Honourable Mention at the international Red Dot Design Competition in 2016 and finalist at the INDE. Awards in 2017, 2018 and 2019.
Yann is also an Associate Member of the Singapore Institute of Architects since 2013 and served as a member of the Advisory & Commissioning Panel for the Public Art Trust within the National Arts Council Singapore from 2015 to 2017. He is a member of the International Council of Museums (ICOM) from 2017 and the Singapore Chapter Co-Chair of the Society for Experiential Graphic Design (SEGD) from 2021.
Presented by the Society for Experiential Graphic Design. Supported by the DesignSingapore Council and the National Design Centre.
About the Society for Experiential Graphic Design
The Society for Experiential Graphic Design (SEGD) is the global, multidisciplinary community of professionals who plan, design and build experiences that connect people to place. SEGD's mission is to promote awareness of and lend support to the professionals In this diverse field of experiential graphic design, nurture demand for design excellence within the built environment and serve a source of education and inspiration for our community. Furthermore, SEGD seeks to continue to define and refine our standards of practice, promote collaboration across multiple disciplines and strengthen ties with educational programmes that provide the academic underpinnings of our field.