Learn How to Create & Conduct the Most Engaging & Effective Virtual Learning Experience
About this Event
Learn How to Create & Conduct the Most Engaging & Effective Virtual Learning Experience by signing up in this course.
Course Outline:
Quick Refresher: Essentials You Need to Know to Design Courses During Pre-COVID Days
Planning the Transition: From In-Person/ Onsite Training Delivery to Virtual
Easy Options to Implement Even Without an LMS:
Asynchronous vs. Synchronous Learning
Webinars, Live Virtual Classes & Blended Learning
Designing A Highly Engaging Virtual Class: 10 Techniques
Developing Your Course Materials for Virtual Classes
Choosing the Best Video Platform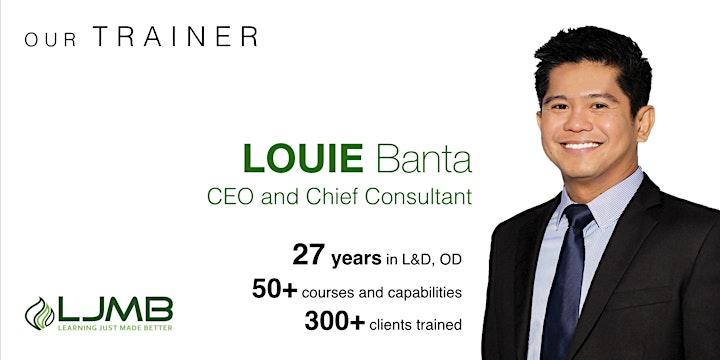 Here's what our previous participants are saying:
"I learned a lot while having fun! This webinar was very engaging and creative with its activities. I learned a lot and will surely apply the trainer's techniques to my own team."
"Good job in presenting a lively training! It's like we're really in an actual classroom."
"I've never imagined that a virtual training can be this engaging!"
"It was really informative and I have a lot of AHA moments, especially this is my first time to attend virtual class. Very good experience!"
"Kudos! It's my first time to experience training with LJMB, and I really appreciate how it was handled very well by the team."
"Insightful! Very interesting and worth sharing!"
"Keep up the lively sessions! No dull moments which you would usually experience on webinars."
"Engaging facilitator!"
"Simply THE BEST!"
Get your tickets now.