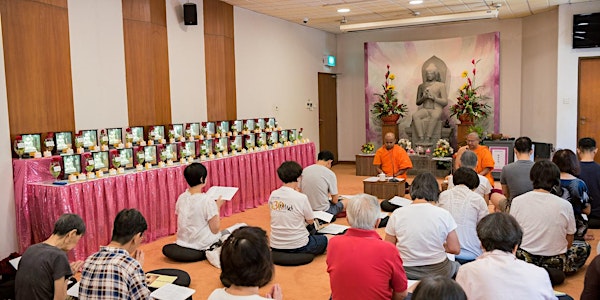 Dhamma Day on 24th July 2022 佛法日(7月24日)
Dhamma Day will take place on 24th Jul 2022. Come join us in our celebration.
When and where
Location
The Buddhist Library, 2 Lorong 24A Geylang Singapore, 398526 Singapore
About this event
TO PARTICIPANTS WHO REGISTERED BEFORE THE EVENT WAS POSTPONED: WE APPRECIATE IF YOU CAN RE-REGISTER. THANK YOU.
Dhamma Day marks the day when the Lord Buddha gave his first sermon (the Dhammacakkappavattana Sutta), which took place at the Deer Park in Sarnath, India. It is a time to reflect on the qualities of the Buddha and express gratitude for his teachings, which offer humanity a way to find release from its bonds.
Come join us on 24 Jul 2022 to honour the Dhamma and renew your dedication to the practice.
在活动推迟之前注册的参与者:请您重新报名。感恩。
初转法轮日
初转法轮日是佛教徒庆祝釋迦牟尼成佛之後,在鹿野苑为五比丘第一次宣說佛法的日子。世界各地的佛教徒都会在这一天自我反省佛陀的优良素质以及感恩他弘扬解脱人道的法门。