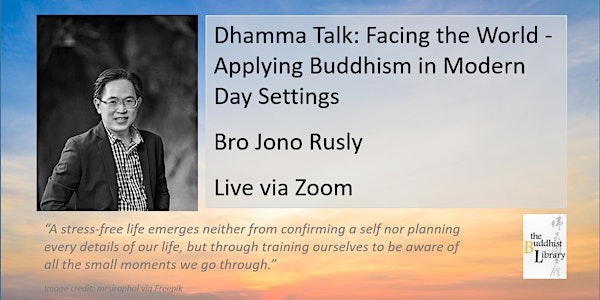 Dhamma Talk: Facing the World - Applying Buddhism in Modern Day Settings
Learn how the dhamma provides perspectives on our VUCA world, and how we can transform ourselves in the face of it
About this event
Talk Synopsis
Our present age is characterised by volatility, uncertainty, complexity and ambiguity. The dharmic voices from thousands years ago, however, can offer possibilities for thinking afresh about our current conundrum. The notion of no-self (anatta) may offer us an alternative strategy to deal with the challenges of our time.
A stress free life emerges neither from confirming a self nor planning every details of our life, but through training ourselves to be aware of all the small moments we go through. Let's explore how the transformation can come in part from realizing the tapestry of causal conditions and our habits of mental construction.
This session will include time for Q&A.
About Bro Jono Rusly (pictured above)
Bro Jono is a director with a Singapore-based global bank and a Chartered Financial Consultant. He has a MA degree in international relations, a MA degree in Buddhist Studies, has written several academic papers on Comparative Buddhism and philosophy, and is pursuing a PhD in Comparative Philosophy at Nanyang Technological University (NTU). Bro Jono has facilitated numerous programs at the Buddhist Library.
Registration process
Once you complete the registration, the Zoom link will appear on your screen as well as be sent to your email.