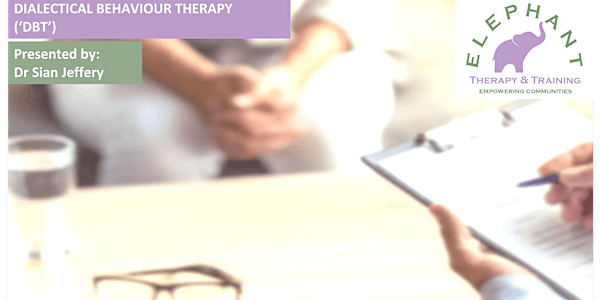 Dialectical Behaviour Therapy Workshop - Advanced Level
About the workshop: This workshop structure combines a focus on the more complex aspects of DBT, as well as a chance for clinicians to revie
About this event
About the workshop:
This workshop structure combines a focus on the more complex aspects of DBT, as well as a chance for clinicians to review some of their own complex cases and look at adherence to the DBT model.
1.  Structuring the session
-          Targeting & Case Formulation
-          Behavioural chain analysis and solution analysis
-          Contingency Management
-          Stylistic Strategies
2.  Managing life-threatening behaviours
3.  Monitoring adherence and outcomes
4.  Common pitfalls and problems and how to overcome them
5.  Complex case review (clinicians will be asked to complete a case formulation prior to the workshop for discussion throughout the workshop)
 Attendee experience levels:
The workshop is intended for therapists who are familiar with DBT and may have already attended introductory workshops to this therapy.
 Workshop format:
The format of the training includes lecture material, videotapes of treatment, and practice exercises to teach the principles and strategies of DBT.
Participants are required to keep their cameras on during active sessions to ensure they attain the full number of hours on their certificates of attendance.
About the Trainer
Dr Sian Jeffery is the Coordinator of the DBT programs at Fremantle Mental Health Service (FMHS) since 2009. She was involved in the establishment of the comprehensive year-long DBT program and a 20 week DBT skills group at FMHS. Dr Jeffery has completed intensive DBT training with Behavioral Tech (Marsha Linehan's research and training organisation), as well as with the Portland DBT Institute. She has been an invited reviewer for journal articles in this area and has provided numerous presentations and workshops on working with borderline personality disorder and DBT around Australia. Dr Jeffery provides regular supervision in DBT and has consulted to a number of public and private services as they established their own DBT programs.
Seats can only be secured upon receipt of payment. As such we encourage prompt settlement of invoices.
Cancellation policy
Please note that if you wish to cancel your registration, the following rules will be applied:
Cancellations notified more than 3 months before the start of the event - 100% refund of the amount paid for the ticket (less administrative costs).
Cancellations notified 1 to 3 months before the start of the event - 50% refund of the amount paid for the ticket (less administrative costs).
No refund applies for cancellations with less than 1 months' notice.