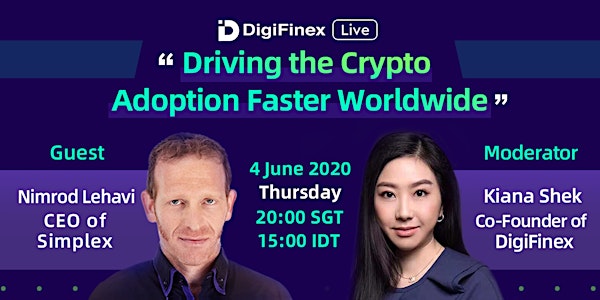 DigiFinex AMA Live with Simplex
Join our Kiana and Nimrod, the CEO of Simplex to explore how to grow the crypto adoption faster in our daily commercial life.
About this event
Our crypto industry is still in its early stages where most world's money is still in fiat. To accelerate the adoption, there is a need to build a fiat gateway to grow our ecosystem and to increase adoption. It is critical to make the introduction easy and fast with the credit card payments as this allows us to immediately bridge the gap between credit card payments and crypto for traders globally.
Event Schedule:
Part 1 - Welcome
Introduction of Nimrod Lehavi, CEO of Simplex
Part 2 - Live Q&A
Prize Airdrop Activity
Get yourself ready to win the rewards from our Airdrop Activity. Install and register at DigiFinex App in advance.
- Apple Store: https://apple.co/2LkQqWK
- Google Play: https://bit.ly/2yJEomQ
DigiFinex Telegram Community (EN): https://t.me/DigiFinexEN
DigiFinex Telegram交流群 (CN): https://t.me/DigiFinexcn
DigiFinex AMA Community: https://t.me/DigiFinexAMA
DigiFinex Twitter: https://twitter.com/digifinex
DigiFinex Website: https://digifinex.com/