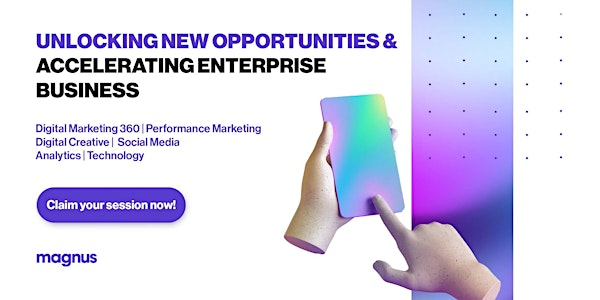 Digital Consultation - Unlocking New Opportunities for Enterprise Business
Book and claim your free digital consultation with Magnus Digital Indonesia!
About this event
This session will unlock all your questions about digital marketing, advertising, technology, and the creative landscape to scale up your business.
Tell us in brief about your current situation, challenge, or goals in digital. Here, you will get a bunch of insight and an actual action plan based on your needs. Therefore, it is required to fill out the form with as many details as possible...
The topics will be tailor-made based on your interest & needs such as:
Supercharge Your Digital Marketing Optimization & Strategy for Enterprise Business
Unfolding Growth for Enterprise Businesses, With The Right Performance Marketing Strategy
Crafting a Game-Changer Digital Creative, That Actually Works for Enterprise Business
Social Media Strategy Essentials for Enterprise Business
Get to Know The Right Technology, That Matches Your Customer Behaviour
Enhancing Data Analytics to Optimize Enterprise Business
and many more...
Please pick the best topic and time that suits you best, and our team will contact you for confirmation.
We are looking forward to talking to you soon!