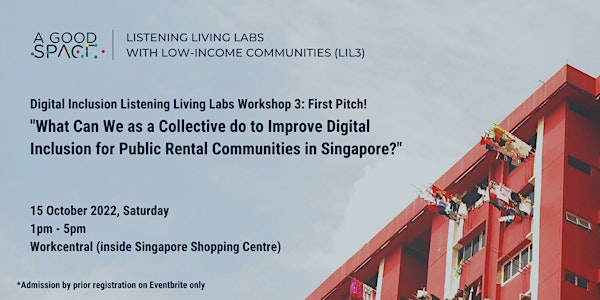 Digital Inclusion Listening Living Labs Workshop 3: First Pitch!
Come hear the teams share their prelim ideas to improve digital inclusion for low-income communities in Singapore and give your feedback!
When and where
Location
Workcentral 190 Clemenceau Avenue ##06-01 Singapore, 239924 Singapore
About this event
Background
In our second workshop on Ideation on 20 August, 47 participants from different sectors came together to brainstorm ideas around three Challenge Statements to improve digital inclusion for the 51,100 households living in public rental flats in Singapore.
These 3 statements are:
🌐 How might we ensure that public rental flat residents can access quality Internet connectivity in a conducive environment?
💻 How might we support public rental flat residents to acquire digital skills and attitudes to enjoy a better quality of life?
💸 How might we support public rental flat residents to navigate online spaces safely and build their resilience against online harms?
In total, 8 work-groups were formed, with ideas ranging from creating a community network of caregivers and resource persons to guide children on using technology for learning to using games to help children from low-income families learn digital skills.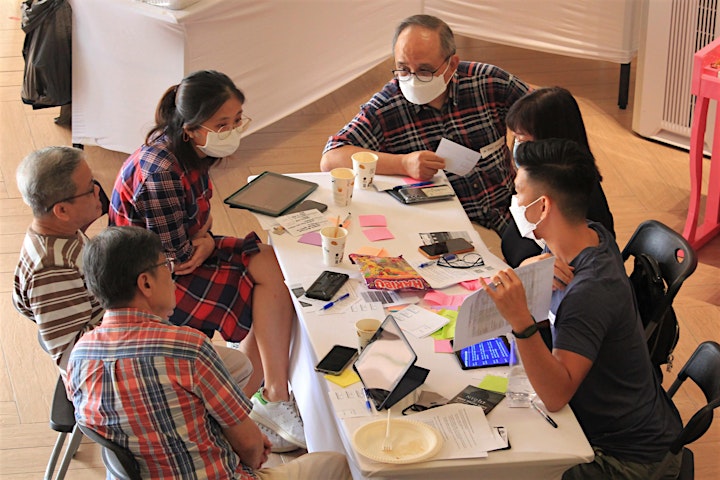 Details for Workshop 3
Date: Saturday, 15th October 2022
Time: 1pm - 5pm
Venue: Workcental, 190 Clemenceau Ave, #06-01 Singapore Shopping Centre, Singapore 239924
The key objective of Workshop 3 is to have the 8 work-groups share their preliminary ideas with each other and receive feedback that will help them improve and refine their ideas, ahead of their pitch in Workshop 4.
This workshop is part of the Digital Inclusion Listening Living Labs (L3) initiative launched by A Good Space.
When we were all forced by the pandemic to go online to learn, work and stay connected, many were cut-off from such access due to the lack of Internet connectivity, devices or digital literacy, especially those from low-income communities.
In the last two years, there have been various efforts to help to bridge this 'digital divide' but these issues will persist even after the pandemic, how can we do more?
The L3 is a multi-year program where we will gather multi-sector stakeholders who care about digital inclusion (e.g. businesses, academics, non-profit organizations, persons with lived experience, etc) to listen to each other and ideate solutions to bridge the digital divide.
This L3 is currently stewarded by leaders representing different sectors within low-income communities, including:
Mr Johann Annuar, Executive Director, Engineering Good
Ms Ruth Tan, Executive Director, South Central Community FSC
Ms Joyce Teo, Executive Director, Community Foundation Singapore
Ms Elaine Loo, Director, Service Strategy & Innovation, NCSS
Dr Natalie Pang, Senior Lecturer & Deputy Head of Department, NUS
Dr Carol Soon, Senior Research Fellow, IPS

A Good Space is Singapore's first co-operative of changemakers, set up to convene diverse changemakers to work on social issues, together. We currently have 32 members representing 15 different social issues and communities who collectively share resources, ideas, and collaborate on projects.
We are united by our belief that together, we can do more for the issues we care about than we can do alone. To learn more about A Good Space, please visit: www.agoodspace.org. For enquiries, please reach out to us at livinglabs@agoodspace.org.
In registering for this event, you consent to the collection and processing of your personal information for the purposes of this event only, in accordance to the Personal Data Protection Act (2012).