Learn the basics of electronic circuitry, microcontroller and code, and combine these with crafting skills to create very own smart device.
About this event
Event details
10 - 13 y.o.
3-day camp, Monday to Wednesday, 3 hours each day
Laptops and materials provided
Bring home free micro:bit plus beginner electronics kit worth S$50
Intakes
Pick an intake (all 09:30 - 12:30):
March - April 2021
15 - 17 Mar 2021
22 - 24 Mar 2021
29 - 31 Mar 2021
5 - 7 Apr 2021
June 2021
31 May - 2 Jun 2021
7- 9 Jun 2021
14 - 16 Jun 2021
21 - 23 Jun 2021
28 - 30 Jun 2021
July - August 2021
5 - 7 Jul 2021
12 - 13 Mar 2021
19 - 21 Jul 2021
26 - 28 Jul 2021
2 - 4 Aug 2021
Sibling discount
10% off for second sibling
15% off for third and subsequent siblings
Pre-requisites
No pre-requisites. Suitable for both beginners and students with coding experience.
Video: Learners team up to create a billboard. The team synchronised behaviour of all devices with radio communication. One of the projects from Making Everyday Stuff segment of the camp.
What do students learn?
This is an elective camp in the LCCL Curriculum focused on exploring the uses of the micro:bit microcontroller, from a lamp remote control to traffic lights and smart home appliance.
The micro:bit micro-controller and hardware
Understand what a computing device does
Learn what a micro-controller is
Understand the hardware components on the micro:bit and their uses
Work with the breakout board, breadboard, connection wires, LEDs, resistor, and other components in the beginners electronics kit.
Design thinking and making!
Experiment, learn and invent contraptions observed in the real world.
Apply design thinking process to ideate and invent own contraptions, be it an interactive sport, smart home appliance or remote communications device, or even a "magical" thing. Let imaginations run loose!
Coding concepts
Sequencing
Functions
Loops
Conditionals
Variables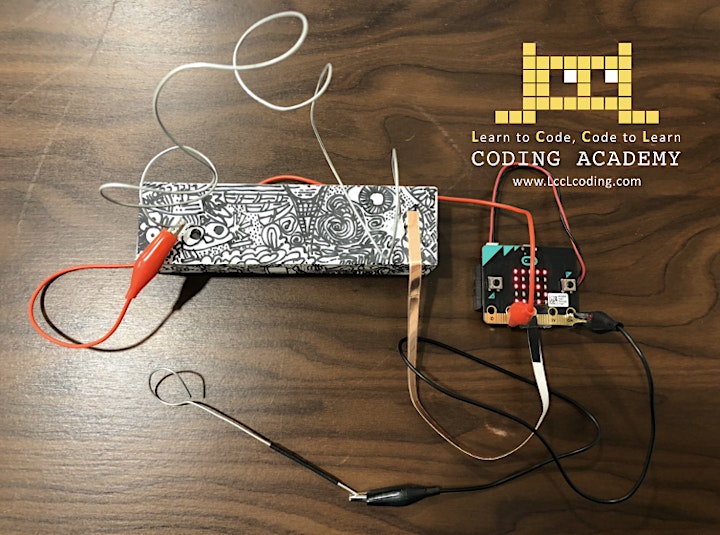 Image: A carnival game created in camp. Students craft the body, plan the circuitry and apply code to create needed behaviours on the device.
FAQs
How do I know if my child is suitable for this?
There is no coding pre-requisite for this camp. Students of all background welcome. Student must be able to use the computer and able to handle small electronics parts.
My child is a current student at LCCL. Is there a discount for this camp?
Yes, there is discount for current weekly students. Contact us for details.
Is the class in-person?
This is an in-person class, held at LccL Coding Academy's flagship Tanglin campus.
How do I know more about LccL?
Check us out at LccLcoding.com or visit us virtually.
How do I contact LccL?
WhatsApp or call 6817 2957. Click here to WhatsApp instantly.
Organiser of Digital Making with micro:bit
The premier coding & computational thinking school in Singapore, formerly known as The Kid Coders. We offer classes for children and teens 5 – 18 years old. Our learners are supported by our four cornerstones:
(1) Led by team of highly experienced & distinguished computer scientists
(2) Strong focus on Computational Thinking, not just coding
(3) Fun & inspiring learning environment
(4) One of the longest track record