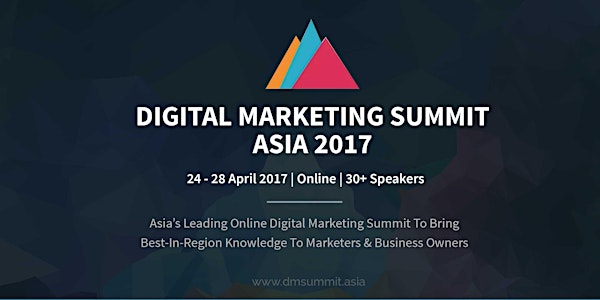 Digital Marketing Summit Asia 2017 [Virtual Summit]
By Digital Marketing Summit Asia
Refund Policy
Contact the organiser to request a refund.
Description
Join Top Digital Marketing Brands At Digital Marketing Summit Asia 2017



What You'll Learn At The Summit:
We work closely with industry experts to bring to you the most essential and relevant topics in Digital Marketing in 2017.
Plus, everything is online!
Topics include:
Traffic Generation:
Facebook Marketing

LinkedIn Ads

SEO


Conversion:
Sales Funnel Creation

Landing Pages

Email Marketing
Marketing Positioning:
Copywriting

Market Research

Applied Psychology
Optimization & Automation:
Marketing Automation

Programmatic

Marketing Analytics
Business Models:
E-Commerce

Affiliate Marketing

Digital Media Publishing


Agenda for 2017
Day 1: 24 April 2017 (Mon)
12PM SGT Keynote Presentation - Gap Kim, Head of SMB Asia Pacific, Facebook

1PM SGT Removing Obstacles To Data-Driven Digital Transformation - Andy Clark, General Manager Asia Pacific, Tealium

2PM SGT Rise of Automation in Performance Marketing: What You Should Know - Jose Kantola, Head of Asia Pacific, Smartly.io
Traffic Generation
3PM SGT Keyword Research in the Era of AI & Clickstream - Tim Soulo, Head of Marketing, Ahrefs

4PM SGT Using Mobile Ads To Grow Your Business - Alvin Koay, Founder, MobileAds.com

5PM SGT How Structure and Run Your SEM Campaigns to Achieve the Best Possible CPA - Kenrick Drijkoningen, Head of Growth, Golden Gate Ventures

6PM SGT Next Level B2B Marketing with LinkedIn - Glenn Huybrecht, Senior Manager - Global Advertising Operations, LinkedIn


Day 2: 25 April 2017 (Tue)
Conversion
12PM SGT Applied Cognitive Psychology For Paid Ads - Wei Leen Ng, Co-Founder, Lean Metrics

1PM SGT Digital Analytics Strategy for Your Business - Vinoaj Vijeyakumaar, Managing Partner & Co-Founder, Sparkline

2PM SGT Increasing Your Sales By 300%: A Content Marketing Case Study - Dave Fallarme, Director of Marketing, ReferralCandy

3PM SGT Email Copywriting - John Pagulayan, The Ask Method Company

4PM SGT Improving Ecommerce Conversions - Viren Shetty, CEO, Plus Margin


Day 3: 26 April 2017 (Wed)
Marketing Positioning
12PM SGT Digital Media Monitoring and Analysis - Richard Spencer, Chief Marketing Officer, Isentia

1PM SGT 7 Figure Evergreen Funnel Copywriting - Brian Cassingena, Senior Copywriter, Mindvalley

2PM SGT PR with Technology and Automation - Tim Chan, Founder, HelloReporter

3PM SGT Online Engagement Planning Across Media - Jessica Beaton, Group Account Director, Dentsu Mobius Media

4PM SGT From Customer to Conversion - Oscar Venhuis, Co-Founder, theDesk


Day 4: 27 April 2017 (Thu)
Optimization & Automation
12PM SGT Programmatic: Winning Micromoments through Digital - Pankaj Khushani, Head of Media Technology Solutions, Google

1PM SGT Beat the Algorithm with Automated Bidding Strategies - Rohit Mulani, Growth Marketer, Cardup

2PM SGT Customer Segmentation, Audience Management, Measurement & Attribution Growth Based Marketing - Leroy Pinto, Head of Data Platforms, Google

3PM SGT B2B Lead Nurturing - Justin Lee, Senior Marketing Manager APAC, Hubspot

4PM SGT Chatbots & Automation - Boye Hartmann, Founder & CEO, Ydigital


Day 5: 28 April 2017 (Fri)
Business Models
12pm SGT Marketing Startups in Southeast Asia - Christopher Star, Growth & Marketing Consultant, ChristopherStar.com

1pm SGT Live Q&A on Affiliate Marketing - Rio Lim, Founder, Aciid

2pm SGT Live Q&A on Freelance Consulting - Satya Kothimangalam, Founder, Truworks Consulting

3pm SGT Live Q&A on Digital Media Publishing - Melvin Goh, Co-Founder, Have Halal, Will Travel

4pm SGT Live Q&A on eCommerce - Steve Tan, eCommerce Elites Mastermind


And sign up for the All Access Pass for:
Lifetime access to all 30+ masterclass sessions
Summit playbook - all speaker slides, checklists, notes & more
Exclusive bonuses from speakres
Infusionsoft marketing automation workshop
Exclusive meetups & private networking Facebook group
Certification badge
Ultimate digital marketing vault
About the organiser
http://www.dmsummit.asia/