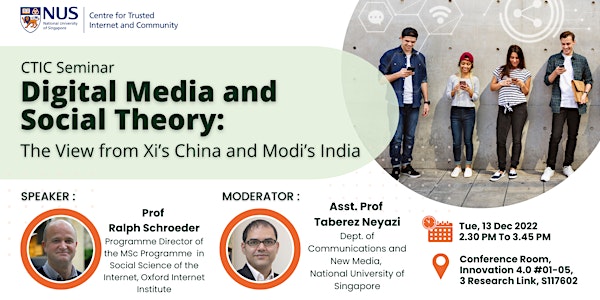 Digital Media and Social Theory: The View from Xi's China and Modi's India
How social science theories about digital media can learn from settings beyond the context of high-income democracies.
When and where
Location
Conference Room, innovation 4.0 #01-05 3 Research Link Singapore, 117602 Singapore
About this event
Theories in social sciences, including theories about communication and digital media, have been dominated by the Global North. In this in-person seminar, Prof Ralph Schroeder will attempt to redress this imbalance by referencing two major countries – China and India, and discuss how social science theories about digital media can learn from settings beyond the context of high-income democracies.
Prof Schroeder argues that, in both countries, digital – as opposed to traditional media - allow for greater responsiveness from elites to civil society and vice versa. However, there are mixed effects of this expanded responsiveness. This ties to a second argument, which is that in both countries, the autonomy of the public sphere of media is constrained, though less so in India's half-democracy than in China's authoritarian party state. Third, algorithmic (or AI-driven) shaping of the public sphere is becoming widespread, potentially skewing the public sphere, especially in China.
Speaker's Bio
Ralph Schroeder is Professor in Social Science of the Internet at the Oxford Internet Institute and director of its MSc programme. He has authored or co-authored more than 150 papers and his recent books include 'Social Theory after the Internet: Media, Technology and Globalization' (UCL Press, 2018), 'An Age of Limits: Social Theory for the Twenty-First Century' (Palgrave Macmillan, 2013), and 'Digital Transformations of the Public Arena' (with Andreas Jungherr, 2022, Cambridge University Press. His current research interests include digital media and right-wing populism, and the social Implications of AI.
Moderator's Bio
Taberez Ahmed Neyazi joined the Department as Assistant Professor of New Media and Political Communication in July 2017. He is also a Principal Investigator at the Centre for Trusted Internet and Community. He came to the position with considerable international experience living and working in diverse cultural settings in Asia, Europe and America. Taberez uses both qualitative and quantitative approaches in his research that ranges from newsroom observation studies, media content and sentiment analysis, to survey and public opinion research.
Taberez's research focuses on political communication and public opinion; computational social science; digital, mobile and social media; communication theory; political Islam; and public policy with a focus on India, Indonesia and South Asia. He also works on political Islam and ethnic politics in India and South Asia. He is the Director of the project Digital Campaign Asia or DigiCamp, which involves studying digital political campaigns of parties, candidates and media and how they engage with the public in the diverse political communication environments of Asia.